Back in 2017, Jaguar presented an electric version of its iconic E-Type model at an event in London. Reaction was swift and enthusiastic. The car eventually resurfaced for the occasion of Prince Harry's wedding in England this year.
The model will no longer be a one-off, Jaguar has announced. The company will produce a commercial version of the electric E-Type, though it will be in strictly limited quantities.
The E-Type Zero, as it's being called, has an electric motor generating the equivalent of 295 hp and powered by a lithium-ion battery pack. Interestingly, the batteries in this pack take up the shape of the inline-6 engine that was fitted in the E-Type of old. The electric motor itself is placed in the transmission's usual location. The new Zero will have a range of close to 300 km.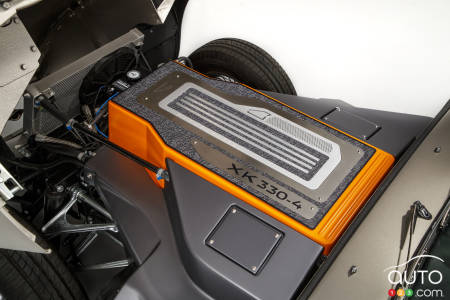 For the rest, the mechanical components will be same as in the old E-Type.
Another nifty trick Jaguar Classic engineers pulled off is to maintain the original model's weight distribution, even as the new E-Type Aero's overall weight is 100 lbs less. Performance-wise the new model has no reason to blush, with a 0-100 km/h time of around 5.5 seconds.
Buyers of the limited edition Zero will be able to order a few interior modifications for their unit, allowing them to get a digital instrument cluster and a multimedia touchscreen housed in a redesigned central console.
Purists can of course choose to preserve the original model's look and elements. Jaguar also mentioned that owners choosing this option can always get it converted afterward if they change their mind, since that entails no structural changes.
For the moment, Jaguar has not announced any pricing for the E-Type Zero, but it is taking reservations starting now. If you're up for it, you'll have to wait until summer 2020 to take delivery, however.