Car shows never lack for presentations high in flash, tech, nuttiness, beauty or any combination of those qualities. Generally, what's being displayed is a vehicle about to go into production in the weeks or months to come. But concepts are also a common presence and a big draw at events like the New York Auto Show. Not only do they make us dream about vehicles of the future, they allow automakers to test out new technologies and systems in development.
This year, a spicy new number was revealed during a media day that was otherwise fairly sedate: the Kia HabaNiro Concept.
Even when spotted at a distance, it's clear this is one of the most spectacular products on display at the 2019 show.
Basically, this is a small all-electric utility model with all-wheel drive. Range on a full charge estimated by Kia at 500 km. But the immediately remarkable feature of the HabaNiro is its set of butterfly-wing doors. This has been seen of course with coupes in the past, but it's very rare to see that setup on a four-door model.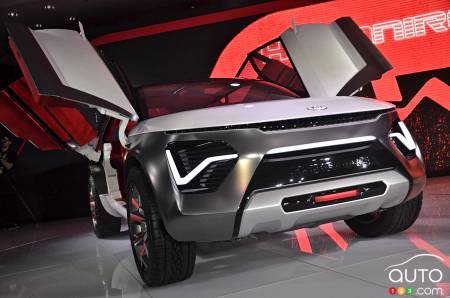 The effect is undeniable spectacular, not least because of what's revealed of the interior when the doors are up. The interior is extremely streamlined (as in, almost devoid of stuff) and decked in a striking red finish. Even the tri-colour exterior is a sublime eye-catcher.
"We wanted this concept to be comfortable navigating city streets, carving turns on a coastal road and off-roading with confidence to remote wilderness adventures."

- Tom Kearns, vice president of design for Kia Design Center America.
It's a vision that helps explain the concept's oversized tires, for one.
The interior
The aforementioned cabin puts forth a bold vision of the future, while the windshield is really one big data screen. That screen is accessible via a touchpad on the central console. Occupants can even move displayed info around on the screen, sliding it from one side to the other smartphone-style.
Once the vehicle is set in self-driving mode, the windshield can be turned into an entertainment screen.
Because why wouldn't you want to watch a film on your windshield while you're hurtling down the highway?
The eye-popping features don't end there. The HabaNiro features an eye-recognition feature, so that when the occupant turns their gaze to where the rear-view mirror normally is (although there is none here), an image showing a view of behind the vehicle appears in the windshield.
Right out of science fiction!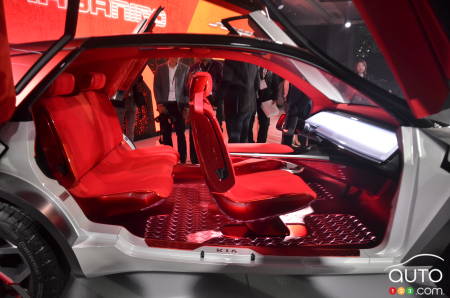 The system, developed by Kia, is called Real-Time Emotion Adaptive Driving (READ). It can also recognize certain emotions felt by the driver, and then adapt several parameters accordingly.
Needless to say this concept is far enough out there in any number of respects that we won't be seeing it on our roads in any future we can currently imagine, but without doubt some of the developing technologies it showcases will, one day, feature in actual production cars.