• The Lincoln Aviator Grand Touring version will no longer be offered in 2024.
If buying the plug-in hybrid version of the Lincoln Aviator was part of your plans for the coming year, you'll have to hurry to get your hands on a 2023 model - Lincoln is withdrawing the Aviator Grand Touring variant for 2024.
The plug-in Aviator was powered by a twin-turbocharged V6 engine mated to an electric motor located between it and the model's 10-speed automatic transmission. Output is an impressive 494 hp and 630 lb-ft of torque.
The smallish 13.6-kWh battery only gives the SUV some 34 km of all-electric driving. It's not much but it's better than nothing, as the saying goes.
The only Aviator that remains in the lineup for 2024 is thus the non-hybrid model with that same V6 engine. With no electric motor in play, it nonetheless supplies a healthy 400 hp and 415 lb-ft of torque.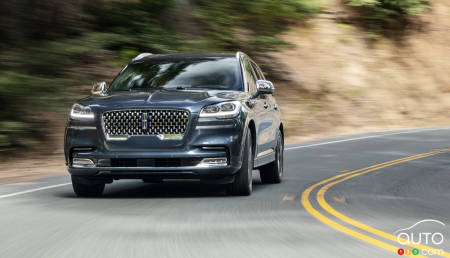 Further updates are expected for the model, but it's now known when that will happen. A camouflage-clad Aviator was spotted during test drives earlier this year, suggesting a styling upgrade. Lincoln could be using elements from the Star concept unveiled in 2022.
Electric versions of the Aviator and Ford Explorer are also in the pipeline. Scheduled for 2025-2026, they will be based on a platform dedicated to electric vehicles, a structure Ford announced back in 2021.
Expect rapid and drastic changes at Lincoln. The brand doesn't offer electric models at the moment, but by 2026 it plans to be selling four. Things are going to have to move fast for this to become a reality.