There it is: the all-new 2015 Subaru WRX! Built on a stiffer chassis than its predecessor, the car houses a new 2.0L horizontally opposed direct-injection turbocharged (DIT) engine that produces 268 horsepower and 258 lb-ft of torque. It's said to improve power delivery with an eye on efficiency, although Subaru did not provide fuel consumption numbers.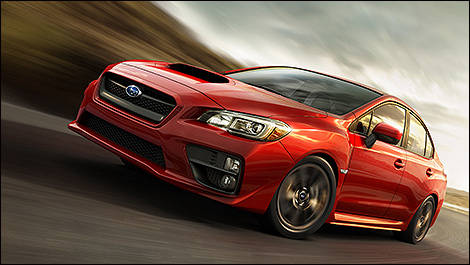 Photo: Subaru
Along with its new 6-speed manual transmission, the 2015 Subaru WRX adopts a Sport Lineartronic CVT that offers smooth shifting as well as an 8-speed manual shift mode.
The exterior of the 2015 Subaru WRX features the brand's new hexagonal front grille, hawk-eye headlights, front fender ducts, special sharp side sill spoilers, as well as a diffuser-integrated bumper and twin dual mufflers. Let's not forget the new 17'' alloy wheels and LED lighting.
The sporty, yet understated, interior of the 2015 Subaru WRX is solid black from roof to floor, save for red meter lighting and contrasting stitching. The 25-mm longer wheelbase results in more passenger room. Meanwhile, the driver benefits from a new D-shaped steering wheel with an easy-to-hold grip shape, a shift lever with a WRX-engraved silver ring (manual models), a body-hugging seat, and a multifunction display that's now equipped with a boost pressure indicator.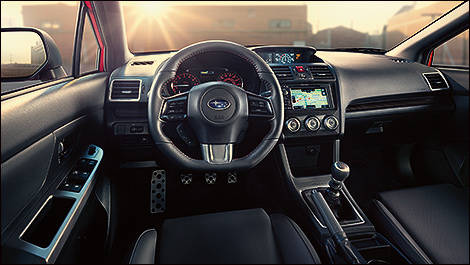 Photo: Subaru
Prices and on-sale dates for the 2015 Subaru WRX have yet to be announced.