2006 Los Angeles Auto Show
Suzuki Xbox 360
Dec 5, 2006
Redline, the one and only goal
Dec 5, 2006
Ford
Dec 5, 2006
Chrysler
Dec 5, 2006
Purebred Italians
Dec 4, 2006
BMW unveils 7-passenger X5
Dec 4, 2006
Honda StepBus and Remix
Dec 4, 2006
Acura
Dec 1, 2006
Saturn
Dec 1, 2006
Audi
Dec 1, 2006
General Motors
Nov 30, 2006
Nissan surprises us with the Altima Coupe!
Nov 30, 2006
LA Auto Show: 100 years
Nov 30, 2006
Tiger Woods unveils the new 2008 Buick Enclave
Nov 29, 2006
That's not a typo! You've read correctly: 2027. We were introduced to two new concepts that, obviously, are more of a styling exercise than real, functional vehicles. Designers always like to foresee the future and give us a little glimpse. Their vision and their creations are often amusing. My colleague John LeBlanc already told you about the Acura Advanced Sedan Concept.
Mazda Nagare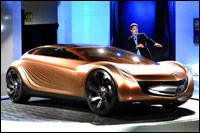 (Photo: Mazda)
In the same mold, the new futuristic Mazda Nagare sedan was unveiled by Laurens Van den Acker, head of the automaker's California Design Center. The Nagare, which means "fluid", strikes with its slender lines. When looking at the car from the three-quarter angle, one can appreciate the flowy, wavy lines. The taillights look like a delicate woman's hand with long fingernails. The Nagare is without question one of the best executed concepts shown at the L.A. Auto Show.