Mazda is really a different kind of automaker. This small Japanese make, which currently ranks 16th globally with just a 2% market share, has a history steeped in engineering, design, and even racing with a victory at the 24 Hours of Le Mans.
From the rotary-powered Mazda Cosmos in the 1960s to the superb RX-7 in the early '80s and then the formidable and acclaimed Miata, the Hiroshima-based company has morphed into an international sensation with a strong reputation in markets like Australia, the U.K., Germany, Italy, and of course North America. In fact, Mazda has design and R&D centres in several countries around the world.
Independent Mazda becoming a custom brand
Since leaving the Blue Oval fold in 2010, Mazda has enjoyed kind of a rebirth. While the company is persistently sticking to its "Zoom-Zoom" philosophy where driving really matters, its marketing focus has shifted to the whole customer experience.
To give you an idea, numerous Mazda employees have been trained by the Disney Institute, which is renowned for its expertise in customer satisfaction. Additionally, George P Johnson, a high-profile marketing agency, was tasked with designing its new stand at the upcoming Los Angeles Auto Show. The people at Mazda are fully aware that customers need to interact with its products and get a feel for them to really consider the brand.
As far as sponsorships go, Mazda has targeted the world of tennis, serving as the official car of the Rogers Cup in Canada, as well as outdoor sports like snowboarding and kayaking. It wants to get closer to its direct audience, namely sporty, well-educated consumers looking for attention to detail and a pleasant drive. Let's not forget the Mazda Miata racing series and the large number of owner clubs hosting various events.
Interesting collection of models
Looking at its current portfolio brings pride to Mazda. With the launch of the completely redesigned Mazda CX-9 last year, every model in the lineup is fresh and exciting—something that we don't see very often in such a rapidly changing market.
On one hand, you have cars like the Mazda3, Mazda6, MX-5, and new MX-5 RF (Retractable Fastback). On the other hand, you'll find a trio of utility vehicles including the CX-3, CX-5, and CX-9. That last group is proving more popular among buyers right now, following the SUV trend in the entire auto industry.
However, with several awards under its belt and nearly 480,000 units sold (for a total of 5 million worldwide to this date), the little Mazda3 deserves big praise and attention.
The new and updated 2017 Mazda3
Before going any further, we should remind you that the Mazda3 has always been a favourite of ours here at Auto123.com thanks to its overall design and driving dynamics. Along with the Volkswagen Golf and Honda Civic, it's easily one of the best compact cars available.
In order to remain a leader in the segment (one of the most competitive in the auto industry), Mazda has slightly revised styling for 2017, particularly the front grille and rear section. The top-of-the-line GT model also gets newly designed 18" alloy wheels. What's more, three new colours were added: Machine Grey Metallic, Eternal Blue Mica, and Sonic Silver Metallic.
The interior has been mildly refreshed, too, and boasts more refined material selection. There's a new electronic parking brake that frees up space on the centre console. Four adults can comfortably enjoy the drive, while trunk capacity is average at best, both in the 4-door sedan and 5-door hatchback.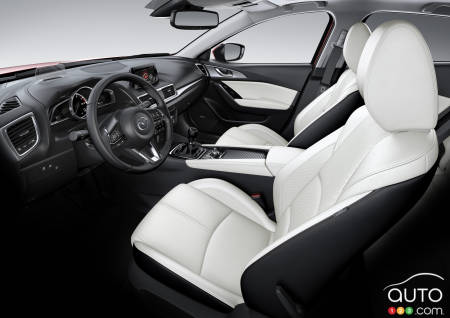 Remarkable on the road
The 2017 Mazda3 is loads of fun whether in town, on the highway or spending quality time on a small, twisty road. The ride is solid and nicely balanced with sharp handling as the suspension is calibrated for performance and comfort in almost equal measures. Mazda engineers also fixed a previous shortcoming by significantly improving noise insulation.
While unchanged for 2017, the two versions of SKYACTIV engine technology under the hood are a good fit for the Mazda3, delivering spirited acceleration and great fuel economy (average of 6-7L/100km) at a time when many other automakers turn to hybrid and/or electric vehicles to put on a green face. Furthermore, the manual and automatic transmissions (the latter with Sport mode) work like a charm.
Of course, the biggest news might be G-Vectoring Control, the first in a series of new SKYACTIV Vehicle Dynamics technologies. It maximizes the vertical load on the front wheels as you approach a corner by inducing a slight deceleration that results in a forward pitch (longitudinal g-force). This puts more grip on the front tires and allows the car to get through the corner more easily, as you can see on the picture below. Upon exiting the corner, weight shifts back to the rear axle, thus stabilizing the car.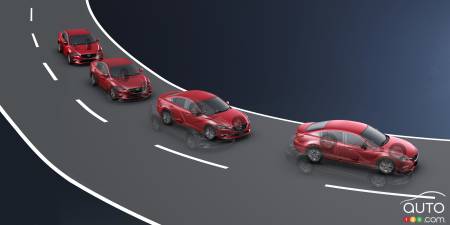 During our test drive of the 2017 Mazda3 with standard G-Vectoring Control, we noticed a remarkable improvement in terms of ride quality and handling. Everything felt smoother and easier. This car will definitely remain a benchmark for driving dynamics. The brakes are the only thing I would address as they lack a bit of power and endurance.
The company knows all too well how important value is in the compact segment, which is why the new Mazda3 starts at $15,900 despite offering more features than its predecessor. The GT model is also down $1,250 to $24,000. This is backed by one of the best warranties in the business—3 years/unlimited km new vehicle comprehensive coverage, 3 years roadside assistance, 5 years powertrain coverage, and 7 years anti-perforation coverage.
Conclusion
The 2017 Mazda3 is without a doubt a car that all compact sedan buyers should consider. Actually, every product in the current lineup deserves consideration. Mazda is certainly on the right track, and while it may not show on sales charts, the company manages to stand out with good products and an excellent customer experience—a terrific recipe to develop brand loyalty.
One last thing: Mazda has no intention to launch more luxurious and expensive models, or become a generic brand for that matter. Rather, it aims to please sophisticated, trendy, and well-off consumers with products that are specifically tailored for them. Don't be surprised if Mazda steals some customers away from Volkswagen, MINI, and even certain entry-level luxury cars.
Oh, and by the way, don't miss the introduction of the all-new Mazda CX-5 on Wednesday!
2017 Mazda 3