Fifteen Journalists Joined Mazda in its Quest to Set 40 Speed Records
For the third time in the month of October, Mazda's one of a kind RX-8 sports car has made the headlines. The Wankel-powered machine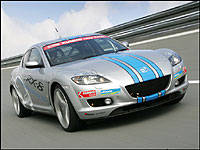 Mazda's unorthodox RX-8 is in the headlines yet again, but this time it's not just another award. Rather, the 4-door, 4-seat sports car has broken 40 speed records. (Photo: Mazda Canada)
recently surpassed the 100,000 sales mark at the start of October, followed by the debut of a 362 horsepower turbocharged RX-8 Motorsport experimental concept. The third honor bestowed upon the four-door, four-seat sports car is for setting and breaking a number of world speed records.
While marques such as Honda may be chasing the speed title for diesel vehicles, and BMW for records with zero-emission hydrogen-powered vehicles, Mazda has aimed to excel in an area that the automaker has great expertise. The Japanese firm entered two 231 horsepower 'Hi-Power' RX-8s for speed testing in order to break records for FIA Category A (special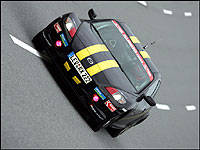 Both RX-8s proved to be faster and more capable of covering greater ground in 24 hours than the 700 horsepower 787B racer entered in Le Mans. (Photo: Mazda Canada)
vehicles) and FIA Category B (mass-production vehicles) with naturally aspirated rotary-powered engines.
Prior to the test, three vehicles were selected by German Motor Sports Organization DMSB e.V. in Antwerp, Belgium, and had their engines and transmissions sealed on site. Although extensive modifications to the vehicles were allowed for FIA Category A (special vehicles), Mazda chose to keep both of its entry cars essentially identical to production vehicles but for a few minor changes. For safety reasons, both vehicles were equipped with special racing seats featuring five-point harnesses as well as roll cages. Given the leeway for adding extras in Category A, the special vehicle RX-8 was fitted with an additional fuel tank and 19-inch light alloy wheels.