Mini unveiled the new generations of its Cooper and Countryman models at the Munich Motor Show this week.
The Cooper was presented in an electric version, though a gasoline-powered variant is also planned. For the time being, Mini does not intend to offer the battery-powered version in the United States, as it is built in China. Recall that since the Trump administration, a 27.5 percent tariff is in place on certain products imported from China.
The same fate awaits the new Aceman model currently in preparation.
As for the new Countryman, it will be built in Germany, in both electric and gasoline versions, which will spare Mini the high U.S. tariff on vehicles built in China. Its arrival in the American market has not yet been confirmed, but there's nothing to suggest otherwise.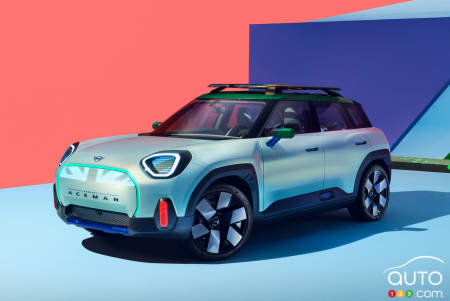 As for the electric Cooper and Aceman, Mini reportedly has a solution in mind. In an interview with Automotive News, Mini VP for the Americas Michael Peyton said the company does plan to bring these models to the U.S., and that more details will be shared in the fourth quarter of this year.
"It'll be good news for North America," he said. "We've got a plan to make sure we can bring those products to market at the right price points and from a business case that works for us and our dealers," he said.
Peyton then elaborated, indicating that Mini is considering producing both vehicles outside China, and he suggested that North America is a possibility: "When you have significant tariffs from an import standpoint and from an overall manufacturing cost [perspective], we've got to address those. There's some good things in place from a BMW Group standpoint that will particularly enable North America."
BMW already has assembly plants in the USA and Mexico. These could eventually be used for the production of some Minis. In addition, the U.S. Inflation Reduction Act passed last year by the Biden administration offers incentives for manufacturers to build electric vehicles in North America, including a $7,500 tax credit for buyers of models built on U.S. soil.