Mirabel, Quebec –
Last week, MINI invited us to the ICAR complex north of Montreal for the launch of the new 2012 MINI Winter Driving Program. We were introduced to the five key elements of safe winter driving and then treated to an Autocross race designed to put our newfound knowledge to the test. All behind the wheel of a
2012 MINI Cooper S's
and
MINI Cooper S Countryman ALL4s
.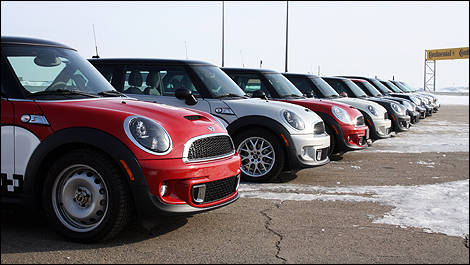 Photo : Olivier Delorme/Auto123.com
As I had just three advanced driving courses under my belt until that day, I was very excited about the whole thing. Especially since it would be my first snow-bound clinic. And I thought the docile, manoeuvrable little munchkins would be perfect for breaking the ice (har, har).
As any professional training worthy of the name, the day started out with a one-hour classroom session. The chief instructor was ex-race car driver
Philippe Létourneau
. He laid out the fundamentals, such as the proper driving position, how snow tires work in slippery conditions and the differences between MINI's Dynamic Traction Control (DTC) and Dynamic Stability Control (DSC).
And for the occasion, MINI Canada had invited none other than Rauno Aaltonen, the famous rally driver who won the 1967 Rallye de Monte-Carlo – in a Mini Cooper. The Finnish champion talked about driving techniques, and we hung on his every word. After all, it's not everyday you get to pick the brains of a legendary driver!
To the track!
Then it was time to get those engines running. A polite row of five Cooper S's and five Countryman ALL4s was waiting for us outside. We were put in pairs, and my co-pilot and I headed toward our designated Countryman for the first challenge of the day.
They had us star out gently so we could get a feel for the cars. The first activity consisted of a few laps around a mini track made up of cones, sans stability control systems so we could learn how the MINI reacts in various situations. With our Countryman ALL4, we had to drift across the track and practice dealing with over- and understeer. Once we'd gotten the hang of it we concentrated on understeer, the trickier of the two.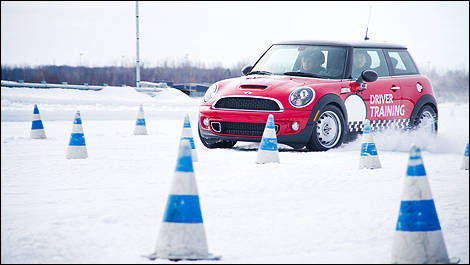 Photo: BMW