The 40
th
edition of the Montreal International Auto Show (MIAS) closed its doors on Sunday, with 204,943 visitors attending the 10-day event -- 1,264 less than in 2007. Yet, the show's executive director, Denis Dessureault, is pleased. "We had a recipe for success: an aggressive marketing campaign that made a lot of people talk, wall-to-wall media coverage which proved very positive, a press conference with Canada's Minister of Transport, Lawrence Cannon, the festivities on the eve of the show and, of course, Mother Nature who gave us beautiful weather conditions," he said.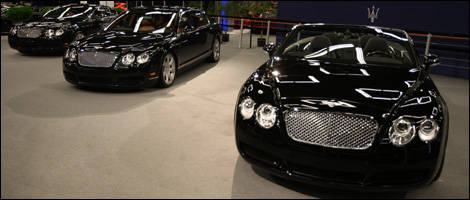 A few Bentleys could be admired at the 7th Heaven exhibit.
According to Mr. Dessureault, who works for the Montreal Automobile Dealers Corporation (MADC), the results of a preliminary survey made by Léger Marketing show that 93 percent of all visitors surveyed were satisfied. "The new route, which we designed two years ago to make visitors enter by the
7th Heaven
, is largely responsible for such satisfaction, he explained. About 70-75 percent of visitors come back every year, which goes to show you how January is associated with the auto show in the minds of Montrealers."
(By contrast, the 2003 edition of the MIAS, held in November 2002, proved to be a flop with only 140,000 visitors.)
Meanwhile, the President of the 2008 MIAS, Marc Bourassa, pointed out that the special attractions of the 40
th
edition have been instrumental to the success of the whole event: "With
Still Hot... 40 Years Later
, we celebrated our 40
th
anniversary in a most original way. And over the last four years, we've been standing out thanks to our
On Route to a Greener Future
segment, including the Green Zone, which we developed in conjunction with Natural Resources Canada. Yet again, it was a huge hit."
Granted, Tesla's electric roadster turned a lot of heads, but probably not as much as the Segways, these famous two-wheel transportation devices. While they could not try them, visitors sure kept staring at them!
Reaching out to the community
"The show has a role to play in society, claims Mr. Dessureault. Since 2005, when we premiered the Charity Preview, we have raised over $1,100,000 for various foundations of the Greater Montreal's health care community."
This past January 17, the MIAS raised over $417,000 to benefit five worthy causes within the Greater Montreal: the Montréal Sacré-Coeur Hospital Foundation, the Sir Mortimer B. Davis - Jewish General Hospital Foundation (JGHF), the Pierre-Boucher Hospital Foundation, the
Centre hospitalier de l'Université de Montréal
Foundation (CHUM) and the McGill University Health Centre Foundation (MUHC). This fund raising event was presented and sponsored by the MADC Foundation and the
Palais des congrès de Montréal
.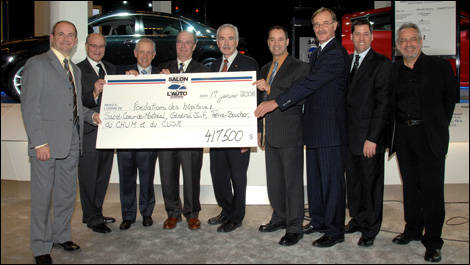 A check for $417,500 was handed to five charitable organizations of the Greater Montreal area. From left to right: Robert Bastien, Chairman of the Montréal Sacré-Coeur Hospital Foundation; Myer Bick, President and CEO of the Jewish General Hospital Foundation; John Rae, President of the "Best care for life" campaign at the McGill University Health Centre Foundation; Daniel Leclair, Chairman of the Pierre-Boucher Hospital Foundation; Gilles Dulude, Administrator at the

Centre hospitalier de l'Université de Montréal

Foundation; Stéphane St-Louis, President of the MADC; Paul St-Jacques, President and General Manager of the

Palais des congrès de Montréal

; Marc Bourassa, President of the 2008 MIAS; and actor Raymond Bouchard, spokesman for the 2008 Charity Preview. (Courtesy: Ryan Blau/MADC)