Once again, the Montreal International Auto Show (MIAS) is using the "On Route to a Greener Future" attraction to bring drivers up to date on all the latest environmentally-friendly technologies.
This year, thanks to a partnership with Auto123.com, visitors and fans actually have the opportunity to test-drive a number of green cars and share their own opinion on this unique way of driving.
A total of nine alternatively-powered vehicles are available for testing, including seven hybrids (Chevrolet Tahoe and Malibu, Saturn Vue, Honda Civic, Toyota Prius, Camry and Highlander), one diesel (VW Jetta TDI) and one partial zero emissions vehicle (Subaru Outback PZEV).
You can also perform a virtual road test in a state-of-the-art simulator and hone your fuel-efficient driving skills.
It's all part of the "On Route to a Greener Future" segment, whose Green Zone features nearly all production hybrids currently (or soon to be) available.
Spotlight on R&D!
This special exhibit wouldn't be complete without a look at future solutions for a greener world. Hydro-Québec is on hand to give details about the TM4 electric motor, which was developed a few years ago and is now integrated to an Indian car from Tata Motors.
Quebecers are pretty ingenious, as evidenced by a special Pontiac Firebird from VE Performance. This tuner's car is designed to run solely on electricity thanks to a dozen lead-acid batteries allowing a range of up to 100 kilometers. Company representatives at the show promised that their machine will be able to cover tens of additional kilometers as early as this spring simply by using lithium-ion batteries.
The Agence de l'efficacité énergétique is also on hand to provide the public with valuable information on alternative energies, green technology and tips for protecting the environment. A number of alternative modes of transportation, such as the two-wheel Segway, and several other eco-friendly products like electric scooters and waterless cleaning solutions can be found at the MIAS, too.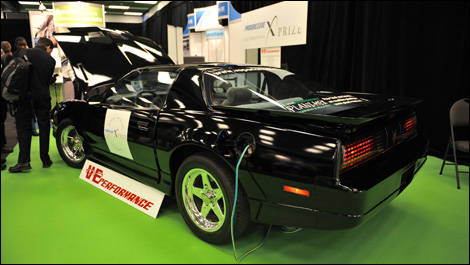 La Trans-Am modifiée de VE Performance.
photo:
Philippe Champoux, Matthieu Lambert