Las Vegas, NV - Even with the presence and under the watchful eyes of thousands of fans and car industry types at this year's edition of the SEMA (Speciality Equipment Market Association) show in Las Vegas, Mopar managed to keep a big-sized secret until it was good and ready to reveal it. And that would be the conception and commercialization of an all-new 1,000-hp engine, the Hellaphant.
The Hellaphant made its Vegas debut under the hood of a reworked 1968 Dodge Super Charger. Created to mark the 50th anniversary of the iconic model, the new Super Charger retains some of the esthetic elements of the very first generation of the model, to which have been added modern components and more lightweight materials.
From the Elephant to the… Hellaphant
Under the hood is the new Hellaphant, an engine based on the old 1964-vintage HEMI 426, itself already dubbed the Elephant due to its massive power output. The new engine pays tribute to the old, and at the same time it represents a logical follow-up to the Hellcat engine. It's wedded to a T-6060 6-speed transmission taken straight from the Hellcat.
To attain that level of output, the engine, made with a light-aluminum bloc, is supercharged by a compressor with a high-efficiency rotor. With 4.0 inches of stroke and bore specs at 4.125 inches, it breathes via a large 3.0L twin-screw compressor functioning on about 15 lb-ft of supercharge. (The Hellcat, in comparison, uses a 2.4L compressor, while the Hellcat Demon uses a 2.7L compressor). It will produce up to 1,000 hp and 950 lb-ft of torque.
Starting in January 2019, the engine will be available from Mopar retailers or online, It will be delivered in a crate and contain all the elements needed for installation. This includes supports, belts, sensors and even a powertrain control module (PCM). The way Mopar puts it, this is literally a plug-and-play engine, very easy to install.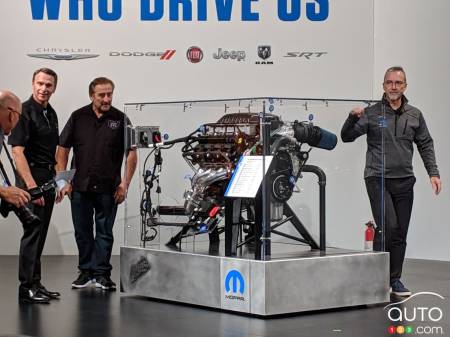 Of course, the package comes with a Hellaphant logo buyers get to add on the car so everyone knows what's under the hood. And as Dodge is a particular fine practitioner of the marketing arts, we should mention that the reveal of the new engine took place at precisely 4:26 pm, Las Vegas time!
RAM Mopar
In addition to supercharging engines, parts and component manufacturer Mopar also represents a big portion of FCA's sales and revenue. Over the last year alone, the FCA division has customized some 300,000 vehicles before their delivery to customers. And the division's management team expects this to increase. Pietro Gorlier, COO of the division, explained that Mopar's success comes because it answers the wishes of motorists to have a unique, personalized vehicle, not identical to what others drive.
To that end, Mopar also revealed at SEMA two customized RAM concepts: a reworked version of the RAM Rebel, and a truck inspired by the RAM Big Horn, baptized the Down Low.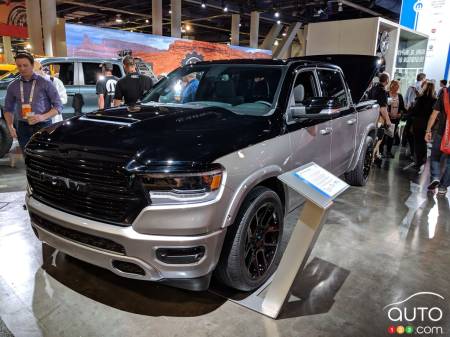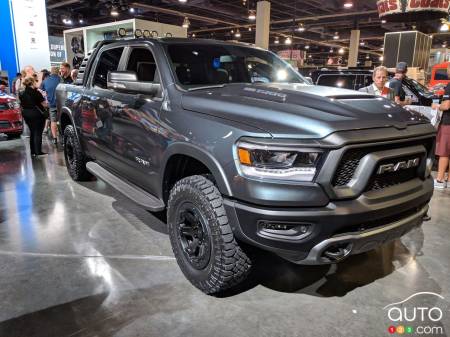 In both cases, most of the accessories that were added are available at Mopar retail outlets. In some cases commercially available elements were repainted; as well, a strip light bar and a 5-inch exhaust tip were added that are not yet available to consumers.
Gorlier pointed out however that both vehicles on display at SEMA can be had by interested buyers in almost identical form, and reiterated that for Mopar it is crucial to present products that are easily accessible and realistic, even when the price tag is elevated.
There are challenges lying ahead for Mopar, nonetheless. Electric cars are going to be a game-changer in unpredictable ways, for one. As well, the decline in the level of interest shown towards cars by young people will make continued growth difficult.
At SEMA, Pietro Gorlier didn't deny the existence of these challenges, and readily admitted that electrification will take up much more space in the domain in the next five years. But he maintained that Mopar can provide products to personalize vehicles in terms of their electronics, for example. He pointed out that Mopar was the first manufacturer to offer wireless charging capabilities for vehicles.
SEMA Show
The SEMA show is, if nothing else, a show that encourages excess. Considered the largest automotive show in the world, and open exclusively to players in the industry, it brings together manufacturers from all corners of the globe to present their parts, accessories, tires or services for technicians and buyers, all under one big roof.
During the three days of the event, more than 70,000 visitors will make their way through the convention hall, checking out some 3,000 new products on display.
A majority of these products are specific mechanical components, or specialized repair tools, for example. But the show is also a unique showcase to present modified cars, of which there are hundreds at each SEMA event, as well as unusual trucks, and the occasion to put on spectacular extreme-driving demonstrations. We didn't want to leave you without sharing some of what we saw there with you!