Because I suffer from withdrawal in the winter, withdrawal from something vital like an addict who goes cold turkey, I will once again share with you one of my track day experiences. Kind of like my last blog, this entry explores the world of an Ontario circuit, a recent track with baby-butt-smooth pavement that I just can't get enough of.
The Pro6 club gives you the opportunity to test your mettle on the fantastic Calabogie track in a safe and fully supervised setting. Riders can use their own bikes in a secure, controlled environment, under the watchful eye of a track manager and corner marshals. Participants are separated into three groups according to their experience and lap times. Pro 6 also sells and services tires and offers suspension tuning and leather repair services. It all makes for one unforgettable experience.
The Calabogie track is five kilometres long and 12 metres wide. It snakes through 20 corners and has an elevation change of 22 metres. This technical masterpiece was dreamed up by Alan Wilson, who has 22 track layouts under his belt. The track is as smooth as a pool table and carefully maintained, and you owe it to yourself to experience it at least once in your life. I pop down there myself about a dozen times a year to test various sport bikes and even to have a little fun with my own trusty steed.
Although Tremblant remains a destination of choice for speed freaks and track enthusiasts, I admit that Calabogie has a special place in my heart. Though it isn't as fast a track, because of its complexity and the quality and cleanliness of its pavement you just never get tired of it. See you there next year!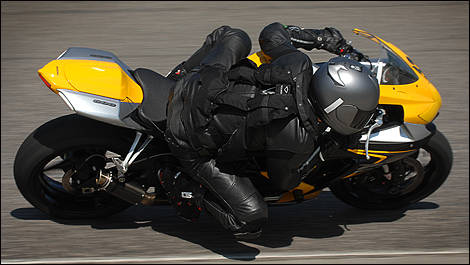 Photo: Philippe Champoux/Moto123.com