Nissan has announced that its latest generation of
Titan
pickups will be equipped with the new Cummins V8 5.0-litre Turbo Diesel engine. Nissan and Cummins collaborated on the development of this most recent powertrain.
Presently in its final stages of development, these engines, with over 300 HP, will be more powerful than those offered with the current model. The V8's towing capacity and mileage will rival any North American-built truck.
"We are very excited to partner with Nissan on the introduction of a Cummins V8 5.0L Turbo Diesel to the North American pickup truck market," said Dave Crompton, Vice President, Cummins Engine Business. "This new engine will offer the right balance of power, performance and fuel economy while delivering the dependability that a customer expects of a Cummins engine. This will be a great package."
Nissan has not yet specified the date of the engine's release on the market.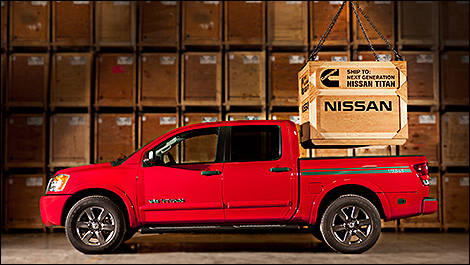 Photo: Nissan