• Future Ford electric vehicles will be compatible with Tesla chargers.
• The deal between the two automakers will give Ford EV owners access to 12,000 Tesla stations in North America.
• In Canada, 750 Tesla charging stations will be accessible, in the Ottawa-Calgary corridor.
Since last November, Tesla's rival automakers have been allowed to install Tesla's exclusive charging connector in their own vehicles, in order to benefit from the company's impressive charging network.
Ford is about to be one of the first to take advantage of this.
The American auto giant has announced that its next generation of EVs, expected from 2025, will feature integrated Tesla connectors, known as the North American Charging Standard (NACS). This means it will no longer be necessary to use an adapter to operate one of Tesla's many fast chargers.
Last February, the White House announced – and Tesla confirmed - that some Tesla-owned charging stations in the U.S. would be accessible to vehicles from competing brands. Tesla will in return receive a portion of the federal funds earmarked for developing and expanding EV charging infrastructure.
Initially, Tesla is committing to making about 7,500 Tesla chargers (including 3,500 ultra-fast chargers) in the United States accessible to any EV by equipping the stations with the widely used Combined Charging Standards (CCS) connector. For Ford, the number stands at 12,000 under the terms of the agreement between the two manufacturers. The agreement includes Ford obtaining API (Application Programming Interface) access to Tesla's interface, meaning that owners of Ford electric vehicles can use the Ford app to activate charging at Tesla stations.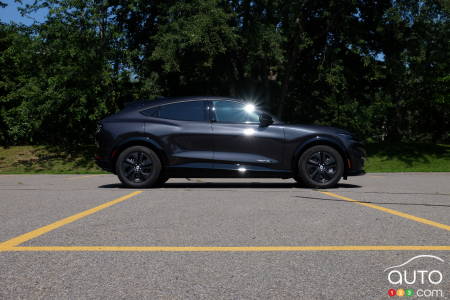 Add to this Ford's BlueOval charging network, which provides access to over 10,000 public DC fast chargers, and Ford electric vehicle owners will soon have access to one of the largest networks of fast chargers on the planet.
As for access to Tesla stations in Canada, the goal is to make 750 terminals accessible to rival brands by the end of 2025 between the Ottawa Corridor and Calgary. This will disappoint many electric car owners living in Quebec and British Columbia.
All we can do now is wait for Ford's second-generation electric vehicles.