Last June Nissan presented a special edition of its GT-R during the Goodwood Festival of Speed in England. The idea was to mark the 50th anniversary of both the model and of the Italdesign firm that would be charged with working its design magic on it. The special edition would be baptised the GT-R50.
A week before its public debut at Goodwood, the company had officially unveiled the prototype of the special edition, but at that moment there had been no talk of producing any for consumers. Minds were clearly changed after that, because by the time Goodwood rolled around, Nissan and Italdesign were talking about the possibility of producing 50 units. Price tag? $1.4 million CAD per unit.
Nissan has now confirmed that it will go ahead with the limited production run.
That price tag is 10 times more than the cost of the regular model with the NISMO treatment. For that, buyers of the limited Italdesign edition will get an extra 110 horses for a total of 710, thanks to a reworked 3.8L V6. They'll also have a choice of colours for their expensive new toy, both for the interior and the exterior.
The special edition will not be produced on the same assembly line as the regular versions of the model. Instead, Nissan will send NISMO versions to Italdesign's shop in in Turin, Italy to be transformed. This transformation will include the fashioning of unique body panels and other new elements.
This kind of custom building is an expensive endeavour, to be sure – hence the $1.4 million price tag. On the other hand, the automaker is clearly confident it can find buyers for all 50 units of the model, and there's no reason to think it won't. If so it's a winning proposition for everyone.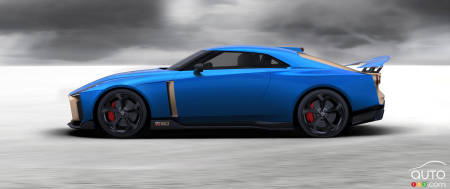 The first units of the GT-R50 will be delivered in 2019. By then, the car's basic design will be a dozen years old. Which begs the question, would you pay so much for a car of that vintage, even a resplendent and unique one such as this? Nissan seems to think enough collectors will answer in the affirmative.
From the collectors' point of view, we'll know if their decision was the right one in about 10 or 20 years, when we see what kinds of prices the GT-R50 special editions command at auction.