Nissan has just unveiled the new and improved version of its ProPilot semi-autonomous driving system. ProPilot 2.0 will enable hands-free driving over long distances on the highway.
Initially at least, the 2.0 version of Nissan's system will be offered only in Japan, and only in the Skyline sedan, which is Nissan's Japan-only variant of the Infiniti Q50.
We can expect the technology to expand pretty quickly to other markets, however.
The current ProPilot system allows the driver to let go of the steering wheel on the highway and allow the car to steer itself. The system can have the car accelerate, apply the brakes and keep its trajectory within a marked lane. But it will only work over short distances.
The new version will be autonomous enough that the driver can take their hands off the wheel on long stretches of highway. The driver will be required to remain alert, however, something that will be monitored via a camera inside the cabin that checks their attention level. In general, the system works similarly to the Super Cruise system in some Cadillac models.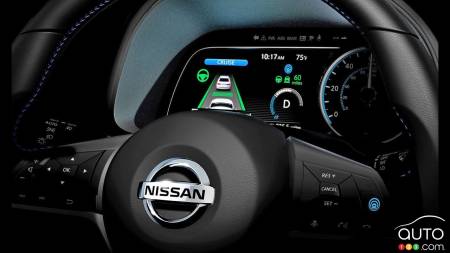 The system tracks traffic around the vehicle via a number of cameras and sensors. Detailed maps integrated in the navigation system are another core component of the technology. For the ProPilot system to work, however, the driver will need to enter an itinerary into the nav system.
We'll know more once the system is included in models here, but currently, over at Cadillac, it is not necessary to enter an itinerary to activate the Super Cruise function, which independently recognizes the situations in which it can be used.
On the other hand, ProPilot 2.0 will be able to handle lane changes on its own. The driver will need only apply the turn signal, and the vehicle will be able to change lanes safely. This kind of system is currently found in some Mercedes-Benz vehicles.
As before, when the system deems it can no longer function, visual and sound warnings alert the driver.
Despite the misgivings and even the outright hostility of some, self-driving vehicles are slowly but surely becoming a reality. As long as the systems being implemented continue to give drivers a choice and increase the level of safety in vehicles, the technology won't get too much opposition from us.