Big news from Quebec yesterday as Premier François Legault announced that his government plans to install 116,000 electric vehicle charging stations by 2030.
To achieve this, Quebec will invest $514 million over five years in the project, to keep pace with the growing number of electric cars on the road. Basically, the government wants more electric vehicles on the road, and to get there, it needs to ensure that future owners have access to a wide-ranging, easy-to-use charging network.
And 'wide-ranging' means more than adding stations along highways or inside large charging areas. The Legault government wants to add 600,000 parking spaces for electric vehicles in multi-unit residential buildings, where charging is often not accessible to residents.
"We hope that in big cities, with the public transport we're adding, one car will be enough, if any. In rural areas, we think it will still be necessary to have at least one car, but we want those cars to be electric."

- Quebec Premier François Legault
Regarding the distribution and location of the charging stations, Environment Minister Benoit Charette explained: "It's not a question of regional distribution, insofar as we're able to meet the needs. It won't be the same solution in Montreal as in the regions (...) We want the right terminal in the right place."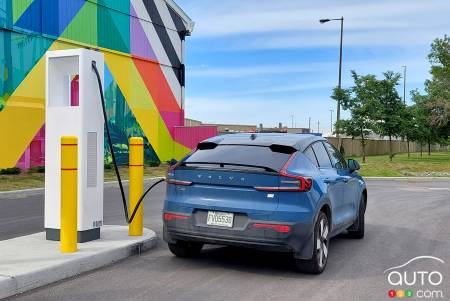 No details were provided regarding the deployment strategy.
Quebec wants to see two million electric vehicles on the province's roads by 2030. François Legault said this goal is achievable with the addition of new charging stations. He added that the needs for these two million new EVs were already taken into account in Hydro-Québec's development plans.
Quebec aims to reduce greenhouse gas emissions by 37.5 percent by 2030 and achieve carbon neutrality by 2050.