This past weekend, Subaru Canada invited Auto123.com to attend the Rally of the Tall Pines, which marked the final and decisive round of the 2013 Canadian Rally Championship.
The first thing I noticed upon arriving in the small town of Bancroft, some 100 kilometres north of Belleville, Ontario, was the extreme cold. In the night of Friday to Saturday, the recorded temperature of -23 degrees Celsius was actually the lowest in the entire province!
Battling for the title were Antoine L'Estage (Mitsubishi Evo) and Patrick Richard (Subaru Impreza WRX STI). The former had to finish at least in 6th place to secure his sixth CRC crown.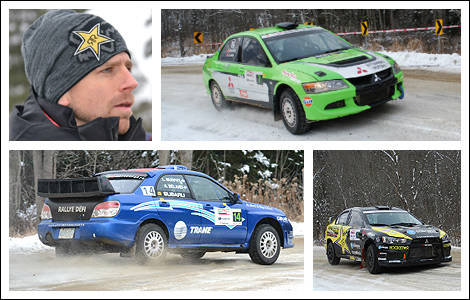 Photos: René Fagnan
The 43rd Rally of the Tall Pines featured 16 special stages covering a distance of 140 kilometres (226 kilometres overall). Some of them took place on ultra-tight forest roads flanked by evergreens, while others consisted of wide-open icy roads that saw cars blasting at nearly 140 km/h.
The weather conditions were so harsh that 20 of the 33 teams had to withdraw from the event.
Top guns like ''Crazy'' Leo Urlichich (broken camshaft), Richard (numerous flat tires, seized differential), and L'Estage (a faulty sensor cost him five good minutes) all ran into their share of troubles.
In the eyes of spectators, however, these guys put on a real show: Remarkable control, extremely precise drifting, assertive steering manoeuvres, superb, ballet-like slides, and a markedly strong desire to attack the road were all on display.
In the end, Toronto's Chris Martin (Subaru), a former kart driver and ice course racer, won the Rally of the Tall Pines by brilliantly avoiding all the pitfalls along the way.
L'Estage finished right behind him after dropping to 14th place, so he was crowned champion for the sixth time in his career.
The holiday break will be a short one as the 2014 Canadian Rally Championship starts in less than two months with the Rallye Perce-Neige in Maniwaki, Quebec (February 7-9). I look forward to being there, even if it's freezing!