The Rally of the Tall Pines, final round of the 2013 Canadian Rally Championship, saw Chris Martin win his first national event, and Antoine L'Estage clinch his sixth CRC title.
The Tall Pines, held near Bancroft, Ontario has a reputation as one of the trickiest rallies of the season.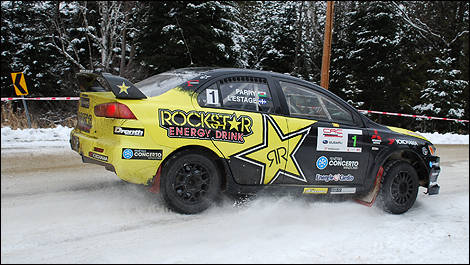 Antoine L'Estage, Mitsubishi. (Photo: René Fagnan)
This year's edition was no different, with very slippery, frozen gravel roads and no snowbanks to help keep cars on the road. Hidden rocks under a light layer of ice led to many tire punctures. Of 33 starters, fully 20 failed to finish, the victims of mechanical failures and off-road excursions.
For much of the event, it looked as though the victory would go to "Crazy Leo" Urlichich of Toronto. He and co-driver Patrick Walsh, in a Subaru Impreza WRX STI prepared by Can-Jam Motorsports, were leading with only three stages left when a cam shaft broke, and denying them a second victory at the Tall Pines.
Starting 19th and having never won a national-level rally, Chris Martin and Brian Johnson in their Subaru took over the lead after Crazy Leo's retirement.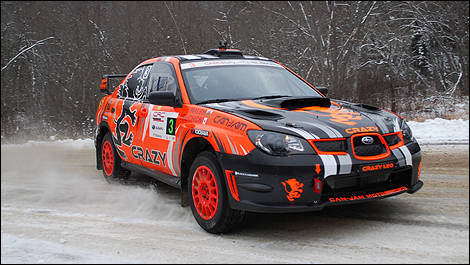 Crazy Leo, Subaru. (Photo: René Fagnan)
The team was clearly at ease in the icy conditions, with driver Martin having won multiple ice-racing championships in Ontario. The team didn't stumble under pressure and took a well-deserved first national event win.
Antoine L'Estage and Craig Parry finished second in their Mitsubishi Lancer, one minute and 51 seconds behind the winners. Having fallen as low as 14th early in the rally thanks to an electrical problem, the team fought back mightily to gain the points needed to defend L'Estage's national Driver's Championship, his sixth.
This result earned L'Estage his sixth Canadian championship title, which ties him with Frank Sprongl and Tom McGeer for top spot in the more than 50 years of Canadian rally history.
The only driver who could have mathematically beaten L'Estage for the Driver's title was Patrick Richard, who was reunited with his sister Nathalie as co-driver for this event for the first time since 2006.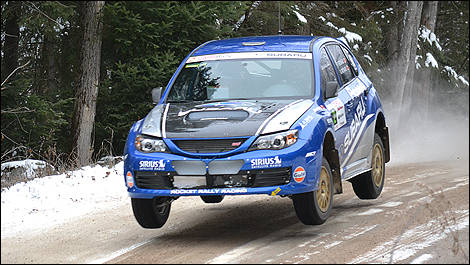 Pat Richard, Subaru. (Photo: René Fagnan)
The Subaru Team Canada duo were in second place behind Crazy Leo and were in a good position to secure the championship after L'Estage's early trouble, but multiple flat tires and a subsequent driveline seizure forced them to retire.
Third place overall went to Maxime Rochefort-Laframboise and Jerome Milette in a Subaru Impreza WRX, a terrific result for the Quebec team.
Despite having not competed for over a year, they resisted the pressure from Steeve Hobbs and Jean-Mathieu Tremblay to take the podium.
Simon Losier with co-driver Brian Maxwell completed the top five, in front of Production Four-Wheel Drive victors Alexandre Ouellette and David Lamarre in their Subaru.
In the two-wheel-drive battle, Martin Walter and Ferdinand Trauttmansdorff in their Nissan won the class and finished a terrific seventh overall.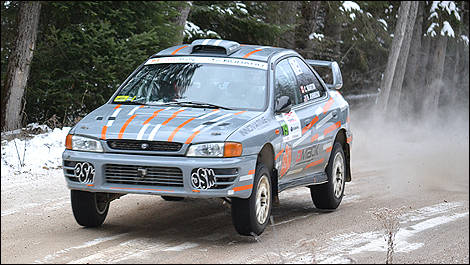 Chris Martin, Subaru. (Photo: René Fagnan)
Rally of the Tall Pines 2013, Top 10

1) Chris Martin - Brian Johnson (Subaru Impreza WRX) - 2h17'21,0"
2) Antoine L'Estage - Craig Parry (Mitsubishi Lancer Évo.10) - 2h19'12,3"
3) Maxime Rochefort-Laframboise - Jérôme Milette (Subaru Impreza WRX) - 2h20'12,7"
4) Steeve Hobbs - Jean-Mathieu Tremblay (Subaru Impreza WRX) - 2h20'51,0"
5) Simon Losier - Brian Maxwell (Mitsubishi Lancer Évo.8) - 2h30'58,0"
6) Alexandre Ouellette - David Lamarre (Subaru Impreza WRX) - 2h33'35,7" (1st Prod. 4WD)
7) Martin Walter - Ferdinand Trauttmansdorff (Nissan 240 SX) - 2h34'39,1" (1st 2WD)
8) Nick Mathew - Kelly Mathew (Subaru Impreza WRX) - 2h35'18,1"
9) Boris Djordjevic - Andrew Avery (Subaru Impreza WRX) - 2h42'08,4" (2nd Production 4WD)
10) Jeffrey Dowell - Emily Dowell (Mitsubishi Lancer DE) - 2h46'14,0" (1st Production 2WD)
National Driver's Championship:
1-Antoine L'Estage, 107 points; 2- Pat Richard, 75; 3- Max Riddle, 46 points; 4-Steeve Hobbs, 42; 5-Simon Losier, 35 points; etc.
National Co-Driver's Championship:
Rob Fagg
Manufacturer's title:
Mitsubishi
Rookie of the Year:
Jeremy Norris
Ladies' Cup:
Emily Dowell