• The designer of the Ram 1500 Revolution concept's third-row seat explains the inspiration behind his idea.
• The third-row seats take the form of folding jump seats.
• Whether the jump seats make it to the production model is anyone's guess.
When Ram showed off its electric pickup truck in concept form at the recent CES (Consumer Electronics Show) in Las Vegas, one feature of the vehicle caught a lot of attention.
That feature is a third row of seats. With a pickup truck, this has never been seen before from a manufacturer. We're not talking about a traditional third row with forward-facing seats, but rather a folding seat section. Still, it makes the Revolution BEV concept the first vehicle of its kind to offer a third row.
Many of you have asked us about this, so we're happy to provide you with more details. In fact, the web has been abuzz with articles about this design element.
The very idea
For this to be even possible, designers needed space. That's where the electric-vehicle design comes in. Without a gasoline engine under the hood, available cabin volume goes up. Interior designer Ryan Nagode then figured out how to integrate the jump seats into what is de facto a third row. His inspiration? The bleachers in a baseball or soccer stadium.
Nagode noticed that many parents and spectators carried folding seats to attend such events. At the baseball stadium in San Diego, for example, there's a green space past centre field where fans sit as they please, sometimes on the ground, sometimes on folding seats they brought to the event. Some fans would hook these folding seats on to the bleachers.
He realized that this type of seating could be incorporated into the design of the Ram 1500 Revolution, without penalizing the space for the first two rows or for cargo in back.
We've seen several pickup trucks offer this type of seating the decades – just not as part of three-row configuration.
Browse cars for sale available near you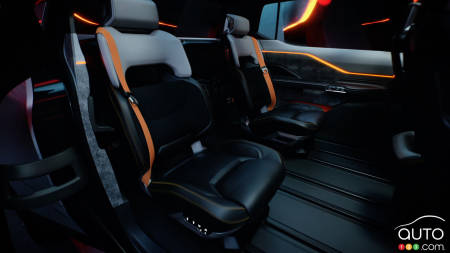 The team researched different types of seating. They then designed two lightweight jump seats that can be folded down when not in use.
It's anyone's guess whether these third-row seats will be in the production model. Ram has mentioned that the production version could be radically different from the concept, which doesn't bode well for this innovation. However, if the public response is great, they'll certainly find a way to incorporate them. At worst, if space permits, they could be offered as an option only.
We'll find out when the production version is unveiled later this year.