• Chevrolet is recalling recall some 10,000 2022-2023 Bolt EUVs due to a risk of electric shock from the charging cable.
Electrification is bringing with it some new realities, to say the least. That includes seeing recalls of a kind not previously seen. Such is the case with Chevrolet's just-announced recall impacting the Bolt EUV all-electric SUV.
The company is having to recall certain 2022 and 2023 Bolt EUVs due to a potential problem with the charging cable, which could give users an electric shock. That sounds potentially pretty awful, but General Motors (GM) explains that if a shock were to occur, it would be very brief, about one fortieth of a second.
News of the recall was first reported on by Carscoops. The problem has to do with a disconnect between the cable hardware and the software that controls it. According to GM, the software might not stop charging when the user unplugs the car, which could cause a loss of ground, shocking the person holding the cable.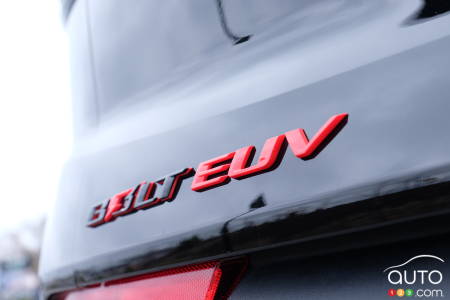 The faulty part was manufactured by Webasto Charging Systems. It was part of the Bolt EUV's supplied charging equipment.
It should be noted that the Chevrolet Bolt EV is not affected by this recall.
A total of 10,825 units are being recalled. Most of the models are in the U.S. It is important to note that no one has been injured and no property has been damaged as a result of this problem.
As for the solution, it's simple. Dealers will inspect and replace the cable, if necessary. Since the problem comes from the charging cable supplied with the vehicle, for owners there's no danger in recharging at public stations, which have their own cables.