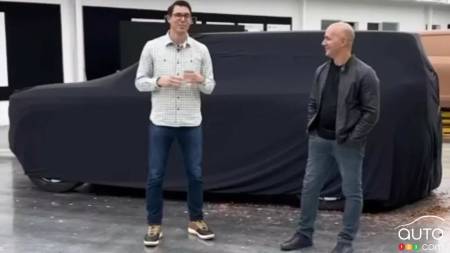 • Rivian previews a third model, the R2.
• The clay model was still under a tarpaulin, a sign that the company is still in the early stages of design.
• Rivian has reserved model names up to R5.
With the Rivian R2, a new model presented last Friday, Rivian begins its expansion. Rivian currently offers two models: the R1T pickup truck and the R1S SUV. The two EVs were simultaneously introduced in fall 2018.
The pickup was the first to launch on the market last fall, while the SUV made its debut this year. And now we're finally getting a first peek at the next new model in line.
The R2 is smaller than the current models, and its arrival is scheduled for 2026.
Rivian CEO RJ Scaringe and design head Jeff Hammoud showed off a clay model of the R2, hidden under a tarpaulin. That doesn't tell us much, but it's encouraging for what's to come because it confirms the company is making progress with the development of another model.
Rivian was known to be planning other electric vehicle models, having already reserved names up to and including the R5. The R2 is believed to be a slightly smaller SUV than the R1S. We can anticipate that it will be called the R2S.
As we've seen with many start-up companies, as well as with the electric strategy of well-known manufacturers, the first models to appear are larger, more expensive models, with more affordable vehicles following after. The future R2S will likely be just that, a cheaper option – though how affordable it will be exactly remains to be seen. The base price of the R1T pickup is $98,500 in Canada, while that of the R1S SUV is $105,250.
The R2 is scheduled to be assembled at Rivian's new U.S. plant in Georgia. The five-billion-dollar plan was to start construction this year, with production of the first models scheduled for 2024. However, a loss of tax benefits granted to Rivian by the state government could affect this timetable. To be continued.
Several question marks remain, and caution is the order of the day, but Rivian now has one more thing to watch out for: the possible arrival of a third model.