70s-era Alfa Romeo Spider models are not that difficult to find on the market; the car was a popular seller in North America in its heyday. Finding one that belonged to Muhammad Ali is another matter, in fact it's a one-in-a-million chance.
For one thing, it's hard to even imagine the big man driving a little two-seater like this. And the fact is that "the Champ" never even really intended to buy the thing. An anecdote that is of course the launching pad to the car's fascinating history…
When Muhammad Ali set out to buy a car on the day, it was to acquire a Mercedes-Benz SL from an importer in Lake Forest, Illlinois. Problem was, said importer did not have any of that model in stock. The car salesman being, well, a car salesman, he pitched the Alfa Romeo to the legendary boxer. And the pitch worked; Ali bought it with the intention of gifting it to his wife.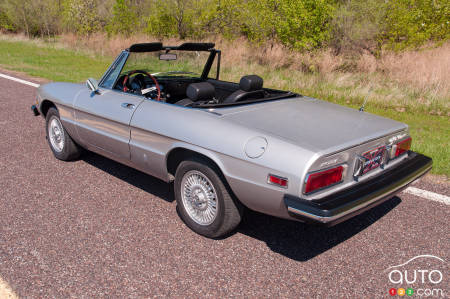 Next problem: she didn't know how to drive a manual-transmission car. And she never did learn. As a result the car sat unused for some time, until Ali gave it to a close friend by the name of Tim Shanahan, who held on top it for about 40 years.
Now here it is, up for auction. The storied Spider is currently listed on eBay, but it will a feature item at a car auction being put on by MotoeXotica Classic Cars of Fenton, Missouri.
The car has remained in good condition over the decades. Its odometer sits at 80,733 miles, and it has been recently repainted to match its original colour. The original 2.0L 4-cylinder engine is still in place, as is the infamous 5-speed manual gearbox. The leather seating, the carpeting and steering wheel are all original as well. The only visible imperfection is the cracked dashboard.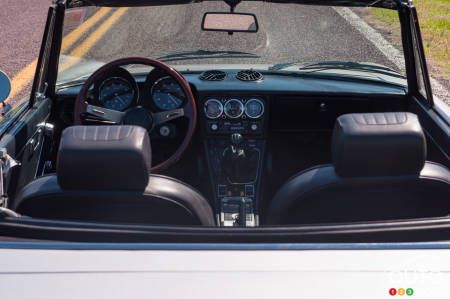 Crucially for collectors, the Alfa Romeo's original registrations come with the car to the winning bidder, confirming its history.
The $42,900 asking price on eBay reflects that history, of course. But then, for fans of Muhammad Ali and/or of Alfa Romeo cars, maybe that seems like a steal.