According to the Japanese newspaper Nikkei, Suzuki is currently developing a plug-in hybrid version of the fuel-efficient Swift to be introduced in Japan in 2013 and possibly later in North America.
Information on the car is limited at the moment, but it will reportedly be powered by a 660-cc gas engine coupled with a 54-kW electric motor, the same duo seen in the plug-in hybrid Swift presented in Tokyo in 2009.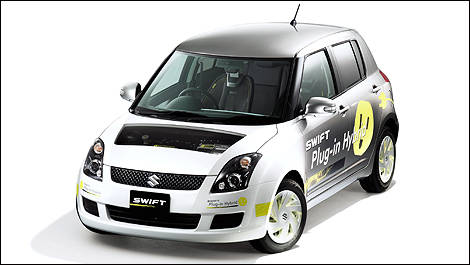 Photo: Suzuki
The car will have a range of around 30 km in electric-only mode, at which point the gas engine will jump in.
Those are certainly not astounding numbers compared to what's available on the market today, but the estimated sales price of $25,000 could play in favour of the car with buyers looking for an affordable, eco-friendly ride.
The reaction to the model in Japan, the automaker's main market, will seal the plug-in hybrid's fate both over there and in North America.



Source: Left Lane News