Tesla Motors is facing quite a storm this month. The legitimacy of its factory outlets (mostly in shopping malls) came into question, and now dealer associations in Massachusetts and New York are suing the electric car manufacturer for operating illegal stores.
According to the National Automobile Dealers Association, 48 states
prohibit or restrict factory ownership of dealerships
. Tesla argues that its locations serve only as showrooms and that shoppers must still go to its website to purchase a car.
Dealer associations don't agree, claiming that Tesla is bypassing the dealer system to save money and sell vehicles at a lower price.
"They claim they're operating under the guise of a non-sales showroom, and we call that out as an outright scam," said Robert O'Koniewski, executive vice president of the Massachusetts association.
He believes that the Massachusetts store, which opened on September 28th, violates the state's licensing, consumer protection and franchise laws. In his opinion, Tesla's business model could leave consumers unprotected by the state's lemon law, which forces automakers to buy back or replace a vehicle that can't be repaired.
We'll keep you updated as new developments arise.
Source: Automotive News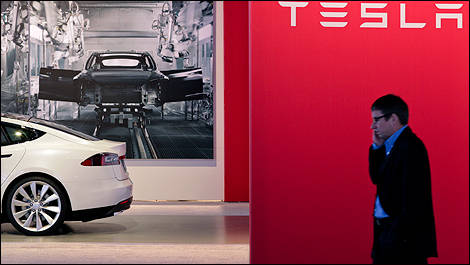 Photo: Sébastien D'Amour