As reported by Ford
DEARBORN, Mich
., – When the all-new
Ford Explorer
sport utility vehicle goes in to production later this year, it will offer an advanced terrain management system that takes the mystery out of four-wheel drive by optimizing powertrain behavior for specific situations and road conditions.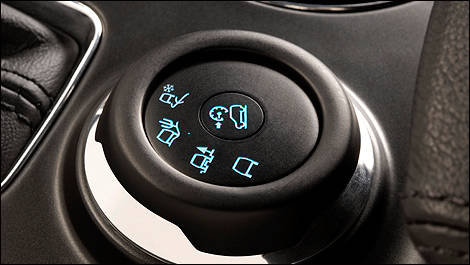 Photo: Ford
"Talking with customers told us that flexibility and freedom to tackle any road, anytime is important to them," said Explorer Chief Nameplate Engineer Jim Holland. "We saw the opportunity to eliminate a compromise by adding an intuitive and efficient terrain management system that can demystify four-wheel-drive control and enable the driver to properly match 4WD traction to the situations and road conditions they encounter."
Anecdotal customer feedback indicated the potential for driver confusion with previous systems as to the best use of 4x4 high- and low-range engagement.
Ford Explorer with intelligent 4WD and terrain management eliminates guesswork, using simple icons to help drivers choose the correct setting at the simple turn of a dial for the climate or surface situation they may be driving.
"One of our goals with the new Explorer is to deliver four-wheel-drive capability with easier and intuitively operated control," said Holland. "The selectable settings are contingent upon weather and conditions, so the system is easily operated and understood. Ford terrain management makes it easier for SUV veterans, while making confidence-building Explorer capability even more accessible to segment newcomers."
Employment of intelligent 4WD with Ford terrain management allowed Explorer engineers to deliver the "any road, anytime" capabilities that SUV buyers expect, while eliminating weight.
Less driveline mass helps the new Explorer with V-6 power deliver an estimated 25 percent better fuel economy than the 2010 model.
"Intelligent 4WD with terrain management works by optimizing Explorer powertrain and braking systems to best suit a variety of situations, allowing vehicle behavior characteristics to provide appropriate traction and driver control," said Holland. "We anticipate the system will really be a stress-reducer and confidence-builder, especially when driving in adverse conditions."
The re-engineered Ford Explorer goes in to production later this year.
Photo: Ford