Everyone has passion. Be it for guns, music, sports or cars, all of us know unbridled love for something. For some, this driving force takes them all over the world to experience various forms of what makes them tick.
For example, if hockey is your thing, touring the Hockey Hall of Fame in Toronto will be an excellent way to get closer to this feverish sport. While hockey is clearly a sweet spot of most Canadians, there are few other passions on this planet better served than cars.
In North America alone, we have countless buildings dedicated to this industry including the amazing Petersen Museum in Los Angeles and the Henry Ford Museum in Dearborn. Europe also has some incredible collections in which we can include Volkswagen's Autostadt and perhaps the most famous of all the Porsche Museum, located in the Porscheplatz in Stuttgart-Zuffenhausen.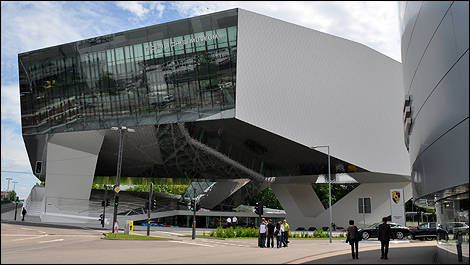 Photo: Mathieu St-Pierre/Auto123.com
I recently made my way to Porsche's Mecca and it quite literally blew my mind. Opened on January 31st 2009, the Museum has already received over 1 million visitors. Ponder that number for a moment. Initially, Porsche expected to get 200,000 people through the turnstiles per year. In two and a half years, they've at least doubled that amount. That's crazy, yet totally understandable.
There is an undeniable draw, something that captivates the imagination and even tugs at the heartstrings where Porsche is concerned. It could have to do with the over 28,000 trophies and accolades they've received over the years, or perhaps it might just have to do with the cars. Porsche ran a great add on the 911 years ago and it read: "Honestly now, did you spend your youth dreaming about someday owning a Nissan or a Mitsubishi?" That pretty much sums up the brand's attraction.
The Museum itself is an architectural masterpiece. I can say no more on this subject other than pictures do not do it justice. It features 5,600 square meters of exhibition space on a single floor which steadily spirals upwards. You only realize this when you get to the top and look down a tall stack of stairs to get back to the start of the exhibit.
Speaking of which, Porsche AG's historic collection consists of a fleet of 400 racing and sportscars. At any given time, the show floor can accommodate 80 cars (plus a large number of small displays). Given that nearly all the exhibition vehicles still participate in historic racing events or are used for special occasions such as those held in Monterey (where I got to drive a
1962 356B Carrera 2 Cabriolet
), this really is a "Museum on Wheels" were the shuffle is constant.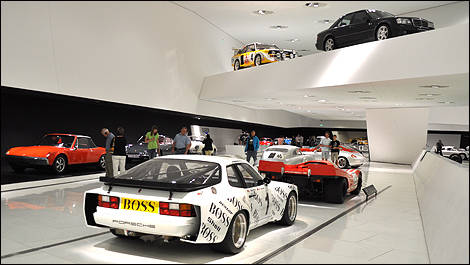 Photo: Mathieu St-Pierre/Auto123.com