I found some of the "shufflers" in the parking garage below thanks to a tip from Porsche Canada. Essentially, you're getting an exclusive preview of some of the cars that will grace the showroom floor in the near future.
My visit in late June coincided with the museum paying tribute to Ferdinand Porsche establishing his engineering office in Stuttgart back in 1931. This milestone is being marked with a special exhibition dubbed "80 years of Porsche Engineering."
Click here
for a few more details and a brief gallery on the subject.
I've also taken the liberty to assemble a few shots of the one car from the exhibit that most captured my attention. It could be that I was thinking ahead to my impending test drive of the
911 Sport Classic
, or that this 1973 911 Carrera RS 2.7 Coupé is one of the hottest European cars from the 20th Century.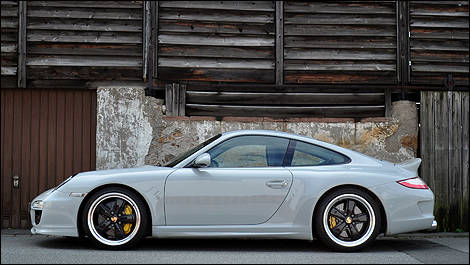 Photo: Mathieu St-Pierre/Auto123.com
Well, then, you've made it this far, and now comes reward time. I've put together a gallery of some of the hottest stuff I laid eyes on at the Museum. Although this gallery has only 45 pictures, I did snap away over 500 times on my 2.5-hour tour.
And by the way, if ever you travel to Germany or are in Europe for that matter, make sure you stop in if only for an hour. It'll be the best 8 Euros you'll spend on your trip.