The evidence is there
A study conducted in 2001-2002 by Transport Quebec, CAA-Quebec, the
Centre de recherche industrielle du Québec
and the
Association des spécialistes du pneu du Québec
revealed that winter tires generally out-perform all-season tires in winter driving conditions.
On a slightly snow-covered road at -20°C, winter tires considerably reduce braking distances whether you're driving a car, a minivan or a 4x4.
Four-wheel drive and all-season tires together allow faster accelerations from 0 to 50 km/h than two-wheel drive and all-season tires, but braking performance is not adequate.
In the study, winter tires also displayed superior grip on heavily snow-covered roads at -2°C, especially upon braking.
Only when a bit of snow covers the road and the temperature rises back do all-season tires offer an advantage over winter tires. According to the results, only a subcompact car riding on winter tires will take longer to reach 50 km/h. But in the case of a minivan or 4x4, winter tires again prove their supremacy.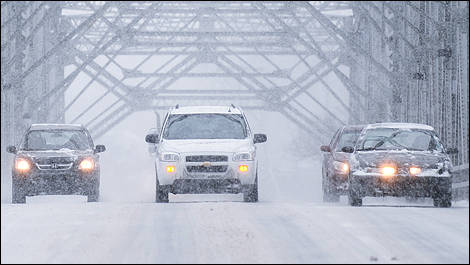 Photo: Matthieu Lambert/Auto123.com