Press Release
Source: Volvo (Sweden)
The factory gates open and the first Volvo FH16 700 appears. An eager Tore Aase from Norway is there to take delivery of the world's most powerful series-manufactured truck. On Norway's hilly west coast, the truck's power will come into its own.
The truck will be used in long-haul operations in the west of Norway, hauling equipment for the oil industry. The 700 horsepower and massive 3150 Nm of torque will be put to good use.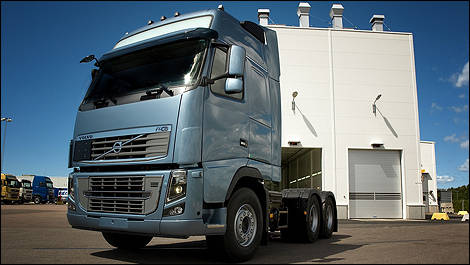 Tore Aase from Norway has taken delivery of the world's first FH16-700 to be built at Volvo's Tuve factory. The truck will be used in long-haul operations in the west of Norway, hauling equipment for the oil industry.
Higher average speed
Tore Aase spends up to 200 days a year in his truck and his trips along Norway's demanding west coast test the truck to its limits. "With our new 700, I will be able to maintain a far higher average speed on the long and steep gradients. I-Shift is also very important to me – not having to make constant gearchanges will considerably reduce my work behind the wheel. I've been driving trucks since the mid-seventies and I'm beginning to get a few aches and pains in my elbow."
When asked how his colleagues will respond when he becomes the first customer to drive the world's strongest truck, Tore Aase replies with a knowing smile: "Well, I'll be leader of the pack and this truck is sure going to attract a whole lot of attention!"
Unique performance and fuel economy
The Volvo FH16 with 700 horsepower is the world's most powerful truck. It is built for the most demanding haulage assignments. Despite its 700 horsepower, there is no increase in either its emissions or
fuel consumption
. On the contrary, nitrogen oxide emissions have dropped by 40 percent compared with the previous model, so the new truck meets the forthcoming Euro 5 emission standards.
"The FH16 700 is in a class of its very own on the world truck market. It offers a unique combination of performance and fuel economy. We have already noted considerable interest in the new model among customers who run particularly demanding transport operations," says Claes Nilsson, President of the Europe division at Volvo Trucks.
Built at the Tuve plant
The new Volvo FH16 700 is built at the Tuve plant outside Gothenburg in Sweden. Their hopes are high that the new model will become a success: "We're really proud to have been given the job of building and supplying the world's strongest truck. Handing over the key to our first customer is a landmark event that speaks well for the future," says Johan Jinhage, Plant Director at Volvo Trucks in Tuve.
Engine specifications:
Type designation D16G700 EU5SCR-M
Max power output at 1550-1800 r/min 700 hp (515 kW)
Max revs 2000 r/min
Max torque at 1000-1550 r/min 3150 Nm
Displacement 16.1 dm3
Compression ratio 17.3:1
Exhaust brake output at 2200 r/min 230 kW
Engine brake output (VEB+) at 2200 r/min * 425 kW
Dry weight (base engine) approx 1325 kg
*VEB+ is available as an option.
photo:
Volvo