Once again, we focus on electric vehicles this Earth Day. As the new models continue to rain down on the market here in Canada and elsewhere (and it's about time for a few of them), the market is growing – and growing more interesting - for consumers who want to go electric in 2023.
And as the auto industry is developing more affordable electric options, we've once again focused on affordable electric models, rather than considering options for the more affluent. That's why this list contains only mass-market brands, if Tesla can be considered a mainstream brand of course.
It's worth noting that all models on our Earth Day Top 10 are eligible for the federal EV discount, and for most if not all provincial discounts, with the exception of Tesla's Model Y.
2023 Chevrolet Bolt EV / Bolt EUV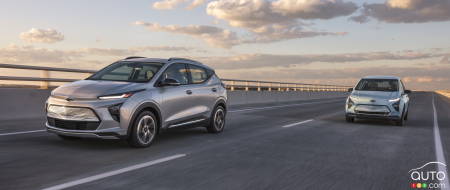 The story of the Chevrolet Bolt EV is an eventful and rather rocky one, with the recall campaign related to this defective battery. Fortunately, after months of uncertainty, the manufacturer has re-started selling and delivering the Bolt EV (car version) version and been able to do the same with the SUV version, the Bolt EUV.
Lo and behold, both models have been selling rather well, thank you very much. Perhaps their aggressive price points have something to do with that, of course…
And even though the technology behind it is older, the Bolt remains very relevant for consumers who are looking for a vehicle that's likeable, practical and capable of covering a very reasonable distance on a single charge, even in winter.