Here is the sixth edition of our annual Auto123.com guide to electric vehicles in Canada! Today we take a look at the all-electric vehicles (BEVs) available in Canada in 2022.
See also: 2022 Hybrid and Electric Car Guide: The Plug-in Hybrids
See also: Earth Day 2022: Here are the 10 (not too expensive) electric utility vehicles to consider
It's looking more and more as if 2022 represents a kind of turning point in the transition to electric mobility. This is the year a host of new, more-affordable EVs are hitting the market, and lo and behold they are selling faster than manufacturers can build them.
Some of that is of course down to current events, such a supply-chain issues, shortages of battery components, the war in Ukraine, the continuing effects of the pandemic and so on.
But those factors don't explain everything. Several surveys have also pointed to evolving attitudes among consumers here in Canada and around the world, ever-greater numbers of whom declare their readiness to Go Electric.
Here is our annual guide to all-electric vehicles available in Canada.
Browse cars for sale available near you
Audi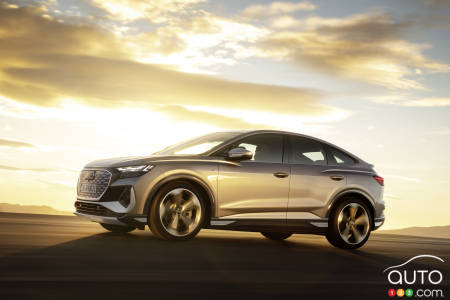 After that intro, there's… nothing to report from the camp of the four-ringed German automaker. At least in terms of new models. The Q4 e-tron/Q4 e-tron Sportback tandem's rocky start certainly didn't help last year, but nonetheless, those two crossovers have the best potential to accelerate the adoption of technology among the automaker's customers.
As for the other two crossovers featuring in the Audi lineup (e-tron and e-tron Sportback), they're still there, and each model is available in an S version that includes all-wheel drive.
And let's not forget the amazing e-tron GT sedan, that has made quite an impression with those who have driven it (or even seen it) since it started arriving at dealerships.
See also: Audi Q4 e-tron: The Luxury Counterpart to the VW ID.4
See also: 2022 Audi Q4 e-tron pictures
See also: 2022 Audi e-tron GT RS Review: The Sound Barrier
See also: 2022 Audi e-tron GT RS pictures