The Toyota GR Corolla returns with a few updates for 2024. Above all, this sporty hatchback, already known for its dynamic performance, has gotten chassis and aerodynamic improvements. There are also improvements for the limited-edition Circuit Edition, back for another year.
See also: Toyota GR Corolla: The Circuit version Will Be Offered in 2024
The base MSRP for the 2024 GR Corolla 2024 is set at $46,490, or $1,000 more than the 2023 edition.
The GR Corolla 2024 range
The GR Corolla will be available in two versions for 2024: the base version and the limited-production Circuit Edition. The former has an MSRP of $46,490, the latter $56,590.
For the base GR Corolla, other changes include new brake calipers painted red.
The GR Corolla Circuit Edition is a little more spoiled. New features for 2024 include:
18-inch forged BBS wheels;
Black-painted grille;
Front and rear parking sensors;
A new colour: Flame Blue.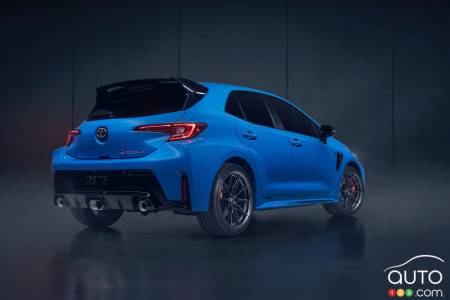 Performance and technology
The 2024 GR Corolla remains true to its high-performance pedigree. With a 1.6L turbocharged 3-cylinder delivering a peak output of 300 hp, this car earns the pocket rocket designation. To that end, the specially developed GR-FOUR all-wheel drive system helps deliver the required traction and control.
Chassis and air ducts
Engineers have made significant modifications to the chassis and air ducts to enhance stability. Notable improvements include changes to the steering box and rear suspension mounting bolts.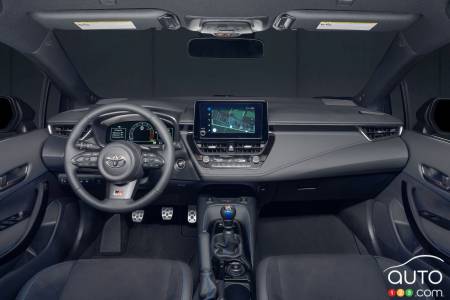 Safety
Features include Toyota Safety Sense 3.0 and an anti-theft system with engine immobilizer.
The 2024 Toyota GR Corolla is available now from Toyota dealers across Canada. The Circuit Edition will go on sale early next year.