Toyota wants to produce 600,000 electric vehicles a year by 2025. That kind of talk from the Japanese auto giant would have been surprising to hear just a few months ago.
It's no secret that Toyota is lagging behind in the electrification race. Last April, however, a change of guard at the head of the company, with Akio Toyoda ceding to Koji Sato, has brought a wind of change.
Since then, the company has been working hard to make up for lost time. Japanese outlet Nikkei reported Friday that Toyota will be stepping up production of electric vehicles for the Toyota and Lexus brands.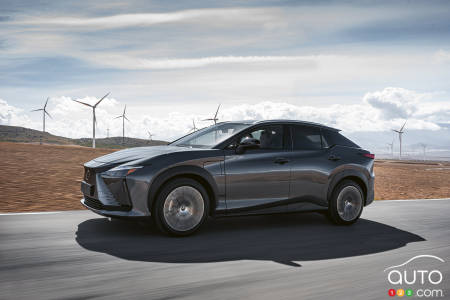 Reports are that Toyota wants to reach an annual production of more than 600,000 electric vehicles starting in 2025. The company has not commented on Nikkei's claims.
The company has previously stated that it wants annual sales of 1.5 million electric vehicles by 2026 and 3.5 million, or around a third of its current global volume, by 2030.
In 2022, Toyota and Lexus jointly sold fewer than 25,000 electric vehicles worldwide.
In the short term, Toyota is working to increase EV production to around 150,000 units this year, and gradually increase it to 190,000 by 2024, according to Nikkei.
This information remains preliminary, and since Toyota has not commented, it's difficult to be more precise at the moment. One thing's for sure, between the 190,000 units targeted for 2024 and the 600,000 in 2026, there's a considerable gap. Can the company accelerate production and everything that goes with it (shipping and eventually, sales)?
No question, Toyota and Lexus are in full catch-up mode.