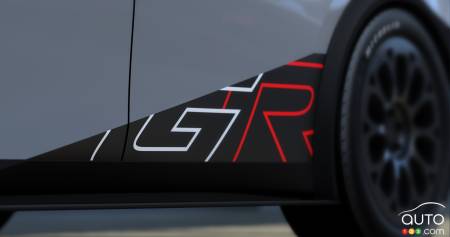 Toyota shows the Prius 24h Le Mans Centennial GR Edition concept at an event honouring the famed Le Mans race.
Toyota's Gazoo Racing is no stranger to the famous 24 Hours of Le Mans race, and the centenary edition of the event was a call for the racing division to tip its hat.
The new concept version of Toyota's latest-generation Prius hybrid is a product of Gazoo Racing, which has been developing and fine-tuning hybrid systems at Le Mans and other events since 2012. Much of what it learned in that time has found its way into production vehicles produced by Toyota and Lexus.
In other words, don't expect a production version of this particular concept any time soon. But still, it's an interesting take on a vehicle that has received quite of bit of positive feedback since the radical redesign introduced last year.
For starters, Gazoo Racing gave the new Prius unique exterior components such as side skirts, canards, a large rear wing and a rear diffuser. The goal of that was to improve the car' aerodynamics and its road grip.
We also find on the concept a lightweight carbon-fibre hood and additional multi-headlamps for better nighttime vision. The car also receives a wide-track suspension and rides on exclusive aerodynamic wheels shod with distinct 18-inch tires.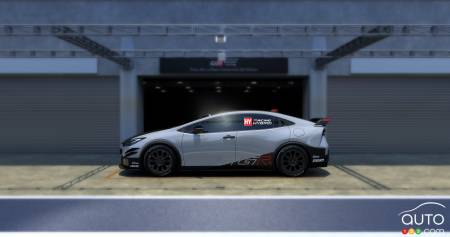 Il ne faut pas s'attendre à une version de production de ce concept particulier de sitôt, soyons clairs. Néanmoins, il s'agit d'une approche intéressante d'un véhicule qui a reçu de nombreux commentaires positifs depuis sa refonte radicale introduite l'année dernière.
Pour commencer, Gazoo Racing a doté la nouvelle Prius d'éléments extérieurs uniques tels que des jupes latérales, des canards, un grand aileron arrière et un diffuseur arrière. L'objectif était d'améliorer l'aérodynamisme de la voiture et son adhérence à la route.
On trouve également sur le concept un capot léger en fibre de carbone et des phares multiples supplémentaires pour une meilleure vision nocturne. La voiture reçoit également une suspension à voie large et roule sur des jantes aérodynamiques exclusives chaussées de pneus distincts de 18 pouces.