This past June, we reported that Toyota is working on a battery that will eventually deliver a range of over 1,200 km to its future EVs. The company this week offered an update on its work in this area, as reported by Carscoops.
800 km by 2026
Toyota confirmed that its new generation of battery technologies will appear in the company's models as soon as 2026. At that point, range is expected to reach 800 km. This is expected to double over time.
The company also plans to offer different battery types to meet different needs, much as we see with many model lineups that include more than one combustion engine.
Initially, we can expect two approaches. The first will focus on the top end of the market, offering greater performance; it will use lithium-ion technology. A second, using a lithium-iron-phosphate mix, will serve more affordable entry-level models.
The first of those will come first and deliver a range of 800 km, as well as a recharging time of 20 minutes or less (from 10 to 80% at a fast-charging station). This new technology will cost Toyota 20 percent than its current batteries do.
The second system will follow shortly afterwards, and cost the company 40 percent less to manufacture. Range in this case will sit in the 600-km range, and allow rapid recharging (from 10 to 80 percent) in 30 minutes.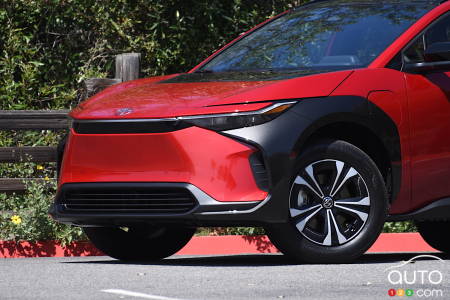 1,000 km by 2027?
By 2027 or 2028, a more powerful lithium-ion battery will be available, with a range of 1,000 km. It will also enable Toyota to save even more money.
Hopefully, these savings will be passed on to consumers, who have been taking a beating for the past two years.
On the same time horizon, other advances will enable the vehicle to be recharged even faster, in 10 minutes (10-80 percent), thanks to the arrival of solid-state batteries. This technology will, the company believes, increase range to 1,200 km or even 1,500 km.
In addition, each advance should in principle reduce the size of EV battery packs, which will enable Toyota to offer models that are slightly smaller (better aerodynamics = more range) and more spacious.
Stay tuned.