Negotiations are continuing - and becoming more venomous - between the unions representing Canadian and American auto workers on the one hand, and representatives of the big three US automakers - Ford, General Motors and Stellantis - on the other.
Workers' unions' current contract with Ford, General Motors and Stellantis expires on September 14 in the U.S. and September 18 in Canada. South of the border, the UAW (United Workers Association) has demanded numerous changes, including a wage increase of over 40 percent over the next four years, as well as a reduced work week of 32 hours. Ford, GM and Stellantis have made counteroffers, but Shawn Fain, president of the UAW described all three as, well, garbage.
Experts agree, we're headed for a labour disruption. The UAW's strike fund is $825 million USD, which could see them through about 90 days. However, if the UAW decides to take a more tactical approach and hit only plants that make engines and transmissions, for example, the strike could last much longer.
It all comes at a time of post-pandemic recovery in the automotive sector, when supply is better than it has been for the past two or three years. Prices are still very high, but the used car market has begun to show a downward trend, giving consumers a respite. Also, the increase in inventories of vehicles means manufacturers are once again offering incentives to liquidate unsold product.
This momentum could be broken by a strike. And of course, the ball is being tossed back and forth at the bargaining table.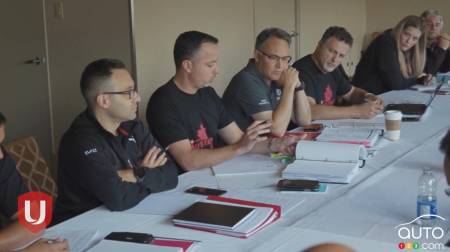 The union has not commented on the likelihood of a labour dispute or the form it might take. What does seem clear to analysts is that if a strike does break out, consumers will be among those bearing the brunt, as supply chain expert Ambrose Conroy told Car and Driver.
"Incentives will disappear very soon after a strike is called, so consumers looking for a deal should buy now. Choices will become limited as automakers will again focus production on the highest-profit vehicles they can make, and the on-hand inventory will likely sell quickly."
When stocks are exhausted, shortages will once again be passed on to the rest of the market. "A strike lasting more than 30 days is likely to push up used car prices," added Conroy.
In other words, if a strike takes place and is prolonged, the used car market could once again see prices soar.