Last night, at the stroke of midnight, a first strategic strike action was launched on the part of the UAW (United Automobile Workers) workers union in the United States, this as the existing labour contract with the Big Three automakers expired. That action has impacted all three car company, each of whom has had one assembly plant targeted.
See: Strategic Strike Action Underway at Ford, GM and Stellantis Plants
On the Canadian side, the agreement between Unifor's unionized workers and the three American manufacturers expires next Monday evening, September 18, leaving more time to negotiate. The union chose to negotiate with Ford first, in order to lay the groundwork for negotiations with General Motors and Stellantis.
It's a no
Yesterday, Unifor received and rejected two offers from Ford of Canada. Union president Lana Payne explained that "these offers fell far short of our expectations."
She added that the union was encountering "resistance" from Ford on several priority issues, including improving members' pensions and wages.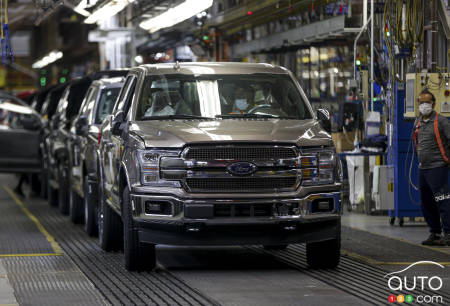 Unlike in the U.S., no details of the offer received were revealed, and the union maintains it won't make those public until the negotiating committee reaches a tentative agreement, which it will then present to the membership.
Although a considerable distance remains between the two parties, Lana Payne did stress that "negotiations are by no means at a standstill" and that there is "constructive dialogue" in some areas.
This is more encouraging than on the American side. Nonetheless, a strike south of the border will eventually affect what happens in Canada, especially as the UAW is going afters the automakers strategically, for example by shutting down the manufacture of certain engines or vehicles.
The union is hopeful of reaching an agreement, but it's ready for anything, too.
Unifor plans to continue negotiations with Ford until the contract expires at midnight on September 18. Lana Payne said yesterday Ford will have to improve its offer.
"It's time for constructive dialogue to produce constructive results. There are only a few days left before the deadline, so Ford needs to come to the table with a serious offer that brings us closer to an agreement in principle that can be ratified."