• Unifor turns to General Motors for a second round of negotiations.
Last week came a first agreement between Unifor, the union representing Canadian auto workers, and Ford. The agreement was ratified by the workers over the weekend. Now it's on to General Motors (GM) for its second negotiating blitz.
Now that a framework has been established via the deal with Ford, the two parties have a basis on which to begin discussions.
Unifor president Lana Payne said the union would be at the bargaining table with the company starting today. She expects GM to "follow the pattern set at Ford".
In an update directed at Unifor members, Payne said that "We hold a lot of negotiating leverage with GM right now. Their Oshawa facility is working around the clock producing very lucrative pickup trucks. The St. Catharines engine and transmission facility, like Ford's powertrain operations, is a lynchpin for GM's North American operations."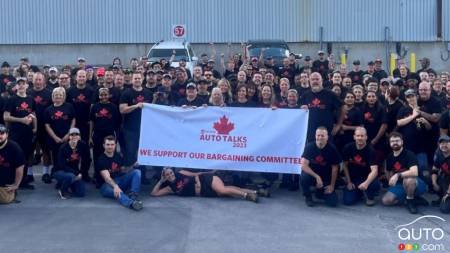 GM has some 3,100 workers at its Oshawa assembly plant, while 1,100 work in St Catharines and another 80 at its Woodstock parts distribution centre. Unifor also represents some 1,500 workers at GM's CAMI assembly plant in Ingersoll, Ontario, but those are under a different employment contract.
Jennifer Wright, spokesperson for GM Canada, said the company welcomed the resumption of negotiations. "We look forward to working with our Unifor partners to build a competitive future that also recognizes our employees' contributions to our shared success," she stated via email.
Payne doesn't expect negotiations to be easy, but she wants to make sure that Unifor is "best positioned to move this pattern forward".
As for Stellantis, the company will be the third and final target once an agreement is reached with GM. The union acknowledges it will have less influence over the automaker in that case because of the upcoming renovation work at the Windsor assembly plant.
Payne explained that "There is still a lot of necessary information we need to receive from Stellantis about the forthcoming Brampton assembly investment and retool. And I believe we need to have greater clarity on this before our talks commence."