• VinFast has launched the new VF 6 SUV in its home market of Vietnam.
For some manufacturers new to the world of electric vehicles, things are progressing relatively well. For others, it's a bit more laborious. Vietnamese automaker VinFast has gone big with its entry into the EV sector, but for all that the EVs it is launching are slow to reach North America.
The only model to debut here to date is the VF 8 SUV and it's still a rarity on our roads. Next to come will be the VF 9. Two other models, smaller SUVs, have been showcased at North American auto shows: the VF 6 and VF 7.
The company has just officially launched the VF 6 in its home market of Vietnam. The order books open on October 20, and deliveries should begin by the end of 2023.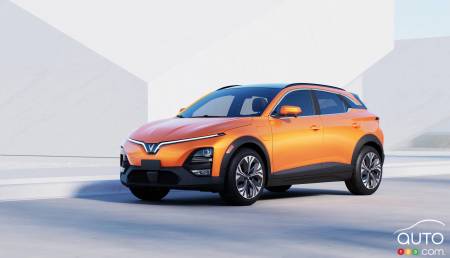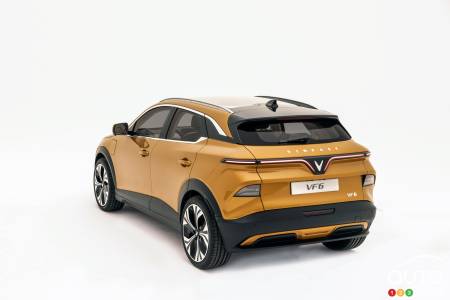 On the Vietnamese market, the VinFast VF 6 is offered in two configurations: Base and Plus. The model is the latest in a list that includes the VF e34, VF 8, VF 9 and VF 5, the first and last being products reserved for that market.
The VF 6 features a design by Torino Design, and it has to be said, it's not lacking in elegance. The interior remains spacious despite the smaller format.
To give you an idea, the VinFast VF 6 spans 4238 mm, making it just slightly shorter than a Buick Encore GX (4347 mm). Its width is very similar (1820 mm vs. 1813 for the Encore GX, while it is less tall (1594 mm vs. 1629 mm for the Buick). The wheelbase is longer at 2730 mm, compared to the Encore GX's.
The new VF 6 comes with five exterior colour options, and two for the interior. The offer may differ once the model launches in North America, of course. And it will launch, that much is fairly certain. VinFast hasn't put a timeline on that yet, though.
The VF 6 is equipped with a 59.6-kW battery offering ranges of up to 399 km (Base) and 381 km (Plus), according to the WLTP cycle, 22 percent more generous than the EPA cycle used here.