VinFast has set a date – July 28th - for the ground-breaking ceremony for its U.S. plant, to be located in North Carolina. The Vietnamese company is investing some $4 billion to build the facility.
The plant will go up at Triangle Innovation Point, in Chatham County, on a parcel of land spanning around 1,800 acres. Production capacity for the plant should be 150,000 vehicles a year in Phase 1.
Which is impressive, except that the company will then need willing buyers to snap those EVs. At the moment, there are not enough of those.
Between January and May of this year, only 128 of the company's EVs were registered in the U.S. - one in February, 16 in March, 66 in April and 45 in May.
The future plant will comprise two main areas, one dedicated to production and assembly of EVs, the other to accommodating additional supplier companies.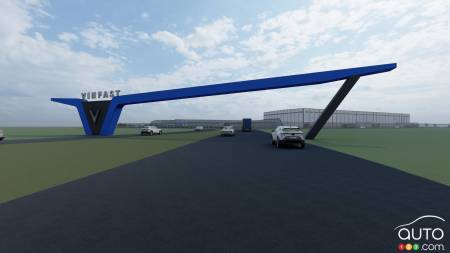 The company has been waiting for permits to begin construction, but those are now in hand. Once up and running, the plant will give life to an ecosystem of suppliers and help generate thousands of new jobs. Here's how VinFast's top boss describes it:
"The manufacturing facility in North Carolina is one of VinFast's key projects. When it begins operations, the factory will be VinFast's primary supplier of electric vehicles to the North American market, allowing us to optimize production and business activities. We hope the construction of the factory in Chatham County will contribute to advancing the clean energy economy in the US and help to support North Carolina's green mobility strategy."

- Thi Thu Thuy, CEO of VinFast
Production at the North Carolina plant is scheduled to begin in 2025.
In the meantime, VinFast will continue to work on building brand awareness in the U.S. market, starting with California where it first established a presence. A network of boutiques and service centres is being developed, and efforts are being made to get potential customers behind the wheel of the company's first vehicle, the VF 8 SUV.
The pipeline for VinFast includes three more SUVs: the bigger VF 9, coming next, followed by the smaller VF 6 and VF 7 models, both earmarked for North America as well.