Volvo Car Corporation is increasing production of the new
Volvo V60 Plug-in Hybrid
, the world's first diesel plug-in hybrid, which provides a range of up to 50 kilometres on pure electric power and 900 kilometres overall thanks to a remarkable consumption rating of 1.8L/100km.
From 1,000 units for 2013 (already sold out), Volvo will build 4,000-6,000 cars as of model year 2014. The assembly has been successfully integrated to the same line as the company's other models at the Torslanda plant in Gothenburg, Sweden.
"We are first in the industry to integrate a plug-in hybrid in an established production flow together with other car models," said Peter Mertens, Senior Vice President Research and Development at Volvo Car Corporation. "The integration in the standard production flow gives the plug-in hybrid buyer the possibility to choose in principle all options available for the standard V60."
Mertens added that the order books for next year's cars are already filling up. Unfortunately, there are no current plans to sell the Volvo V60 Plug-in Hybrid this side of the Atlantic.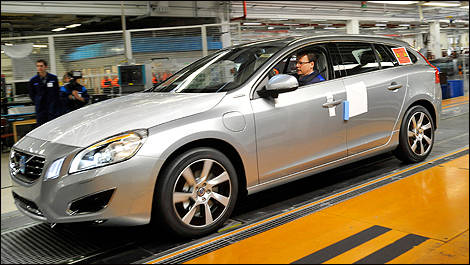 Photo: Volvo