• Volkswagen is testing self-driving ID. Buzz self-driving vans in Austin, Texas.
The Volkswagen ID. Buzz is expected on North American roads next year, but if you take a detour to Austin, Texas, you'll see some on the road right now. These early units have a particularity, mind you: these won't be driven by consumers, or by any human for that matter.
Volkswagen has launched a pilot project to develop its autonomous driving technology for future deployment across the globe. Four other American cities are scheduled for trials, before the launch of a full commercial service by 2026.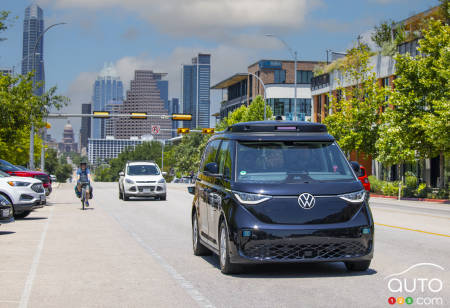 It should be noted that during this first test phase, all prototypes will have humans on board to monitor the operation of the camera, radar and lidar systems.
The vans used in Austin are versions equipped with automated driving technology from Volkswagen's partner in the field, Mobileye. A total of ten units will be deployed as part of the program. Volkswagen hopes that, eventually, these autonomous vehicles can be delivered directly to companies via its commercial division. If all goes according to plan, these models will be combined with fleet management and remote-control systems, but Volkswagen has made it clear it has no plans to launch its own ride-sharing service for the time being.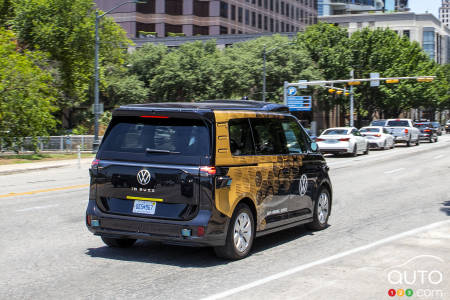 Pablo Di Si, CEO of Volkswagen in the Americas, had this to say about the program:
"We are thrilled to bring our exciting ID. Buzz vehicles to American roads. Expanding Volkswagen Group's global autonomous driving vehicle program to the United States marks an important milestone for us. In the future, we will tap into rising demand for new mobility services, and with our iconic ID. Buzz, we will also offer a truly captivating product to support transportation services American consumers can rely upon and trust."
Christian Senger of Volkswagen's Commercial Division Management Board, and in charge of autonomous driving development, added this:
"Expanding our autonomous vehicle program to the North American Region is the next step in our global strategic roadmap, and the result of a long-term collaborative investment. Moving into this next phase will help us test, validate and refine technology, bring us closer to establishing commercially available transportation offerings and eventually grow the diverse mobility portfolio for the Volkswagen Group."