VW and HPA Motorsports Deliver Super-Tuned VR6 at SEMA
While nearly every different make and model is represented at the annual SEMA (Specialty Equipment Market Association) show, only a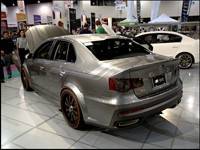 After 42 years of SEMA's existence, Volkswagen has actually entered the show officially. (Photo: HPA Motorsports)

select few carmakers actually have their own corporate-backed stands. Take Volkswagen for example. Ever since it was known that the classic, air-cooled Beetle could be reworked into the also classic dune buggy, VW has been a part of the customization scene. But only now, after 42 years of the show's existence, has Volkswagen actually entered the SEMA show officially, and what's more is that they're the only European manufacturer to have a standalone display.
While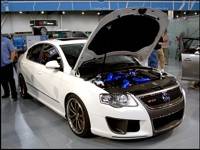 Volkswagen and HPA Motorsports have worked to create three different vehicles to form the "R GT" Project. (Photo: HPA Motorsports)
VW won't be displaying any dune buggy versions of the New Beetle (they already made the New Beetle Dune Concept five years ago and more recently 2004's Concept T) they've focused in on what's currently popular: speed and style. In collaboration with Vancouver-based VW tuner HPA Motorsports, known for their jaw-dropping 600-horsepower, 325 km/h Golf R32, the two firms have worked to create three different vehicles which form the "R GT" Project. VW will also show "Stanley", a completely robotized and driverless Touareg modified by Stanford University, which won a 210 km-long race for robotized vehicles earlier in October.