2001 Volkswagen Cabrio - Great When the Sun is Shinin'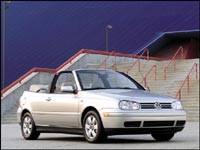 When I was a teen, growing up in Vancouver's well-heeled North Shore, it seemed that the only birthday gift worthy of a 16-year old debutant was a Volkswagen Rabbit Cabriolet. And not just any VW drop top would do. It had to be white on white with navy blue accents. Although the Cabrio may have fallen out of its #1 spot as a female youth status symbol, it still gets plenty of lustful looks from women of all ages. It's not that a man can't enjoy putting the top down and basking in the sun, it's just that there are certain cars that are stereotypically sought after by women - and the Cabrio has to be the epitome of these.
The classic VW gets better this year with the addition of the full-load, $32,250 GLX, joining the GL and GLS. The GLX is well appointed with leather seating, 14-inch alloy wheels, integrated fog lamps and a high quality lined and insulated power roof.
The base GL has been reduced in price by $570 to $28,530 a move that will hopefully stimulate sales for this aging model. Although considered the base version, the GL is by no means bare bones. Standard features include CFC-free air conditioning, an 8-speaker cassette stereo, a defoggable rear window, four-wheel ABS brakes, a leather-covered steering wheel, anti-theft alarm with Immobilizer key system, side-impact air bags (front), a pollen dust filter, driver door-mounted power lock/unlock switches with central locking system and remote locking with trunk release. The Cabrio GLS adds a cloth top, replacing the GL's vinyl one, cruise control, power windows with one-touch up and down, power mirrors and heated seats.