The Chief of Joy Rides
We all know what the traditional police cruiser is in North America. Anyone who has ever checked the rearview mirror for a tailing cop can easily identify the big black grille of a Police Interceptor, Crown Victoria.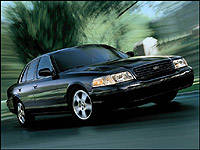 The Ford Crown Victoria is the workhorse of police detachments across the country. (Photo: Ford Motor Company)
The Ford Crown Victoria has remained the police car of choice since the demise of the Chevy Caprice. Like most city police officers, Chief Constable Jamie Graham of the Vancouver Police Department motors about town in a Crown Vic. However, unlike the fully marked white cruisers driven by his men and women in blue, the Chief's cruiser is jet black, unmarked and highlighted only by chrome wheels. The black Mariah one might call it!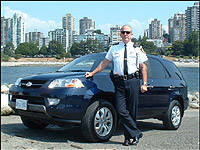 Chief Constable Jamie Graham of the Vancouver Police Department took the new 2003 Acura MDX out for a spin. (Photo: Rob Rothwell, Canadian Auto Press)
On a recent trip to Kamloops B.C., the Chief traded his black Mariah for the comfort and performance a midnight blue
2003 Acura MDX
loaded with all the goodies. And what was the purpose of this trade you may ask? Well, you see, the Chief is a bit of a car buff to say the least. How interesting I thought it would be for him to offer his chiefly thoughts and opinions road-testing the MDX during his escape to Kamloops.
The scenery surrounding a run to Kamloops is absolutely stunning. The climate changes from temperate rainforest to arid desert over the course of 355 kilometers (220 miles) or so of divided highway. En-route lush farmland gives way to craggy mountain peaks and high-mountain passes capable of grinding many-a-car into the searing pavement on a blazing hot summer day. Those fortunate enough to surpass the hurtles towering up to 1,240 meters (4,068 feet) without overheating or scattering transmission components will be welcomed by cowboys riding the range in the rolling hills of British Columbia's Thompson-Okanagan region.