2003 Ferrari 575M Maranello - All I Want For Christmas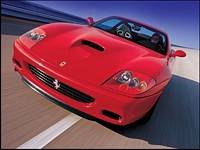 2003 Ferrari 575M Maranello
It has been a while since I drove a 550 Maranello, but the impression is still indelibly stamped in my memory banks. The car was almost perfect, reacting to nuances of emotion let alone input from my feet and hands. But according to Ferrari it wasn't good enough. The Italian company, that continued right to the end of its 2002 season to perfect its already ridiculously dominant F2002 Formula 1 car, has made progressive changes to improve the F550.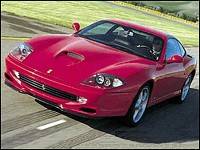 2000 Ferrari 550 Maranello
After all, the model was introduced to Canadians in pre-millennium days (doesn't that sound old), way back in 1997. While some thought the front engine rear-wheel drive layout and overall styling a little too conservative, especially compared to its provocative Testarossa/512TR mid-engine predecessor, most of us welcomed a return to classic design architecture.
Classic or not, the 550 Maranello improved on nearly every aspect of every previous road going Ferrari. While less evident the new 575M does the same, refining style, upping performance and adding features.