It's not easy shopping around for a small car these days. There are so many choices, at attractive prices and interest rates. But if you're looking for something other than a four-door sedan, the list narrows considerably.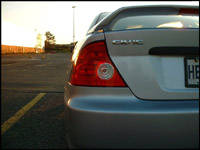 The Civic Coupe has very few direct competitors, such as the soon-to-be-replaced Chevrolet Cavalier and
Pontiac Sunfire
, the Ford Focus 3-door, the Saturn Ion Quad Coupe, and the Volkswagen Golf 3-door. The new Scion tC, part of Toyota's new youth-oriented brand, is also one of this Civic's enemies, but is only available in the U.S. The Civic benefits from an exterior revision this year, giving it a more aggressive look. The front and rear bumpers, headlamps and taillights have been redesigned, as Honda usually does when a model reaches the fourth year of its 5-year cycle before a whole new model comes along.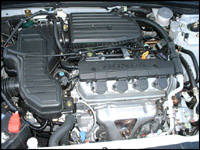 Heading down the road, the 1.7-litre, 115-hp engine is smooth and willing. It emits a cheerful growl and never seems unhappy to rev. The clutch is light and the shifter is so precise in its movement. Torque isn't generous, but in everyday driving it proves to be clearly sufficient. You can barely notice the 12-hp difference between the base motor and the Si's 127-hp mill. It makes us wonder why Honda even bothers manufacturing and selling two engines that have so little difference. Its 115 horsepower, though, is rather timid when you realize that besides the Golf, all of its enemies all boast far more horsepower. Honda will soon have to address this issue if it wants to keep up performance-wise.
The Civic SE has adequate performance figures. It accelerates to 100 km/h in about 9 seconds and passing power is improved over the previous generation of Civics, thanks to engine retuning for more low-end torque. Don't expect blasting down highway on-ramps and winning any stoplight races. In typical Honda fashion, access to the vital fluids underhood is easy.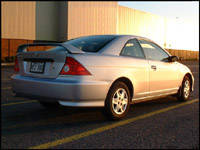 Handling is surprising considering the smallish 185/70R14 tires, although this particular tester wore Dunlop rubber instead of the usual disappointing Firestones that are normally standard equipment. The car corners confidently until the front tires start squealing (not the mention the passenger) and you hear your groceries flying around in the trunk. The Civic SE almost convinces you that you don't need the Si coupe's 15-inchers. The ride is a little firm but not harsh. As for the brakes, all Civic models come with front discs and rear drums, which perform decently, even without ABS (optional on the Si only). Overall, the Civic has good moves but not quite as fun to drive as a Ford Focus or a VW Golf.