Drivin' Large
Here's the thing about executive sedans: Although they could speak to the wisdom of the owner - a captain of industry, perhaps, an inventor or a Microsoft millionaire - they often just speak to wretched excess.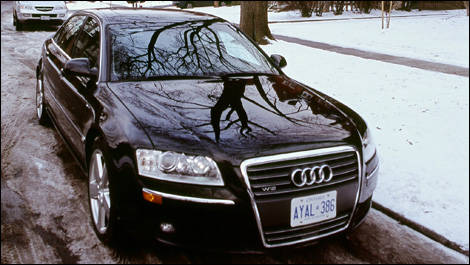 A marvelous high-end sedan with a less marvelous price.
But the 2007
Audi A8L W12
is a breed apart. This elegant car offers all of the amenities of the "traditional" executive sedan, but brings with it an added bonus: understatement.
Upon first glance, the long wheelbase Audi is clearly an expensive car, but the average observer would likely not think that it starts at $170,800.
Now, here are the reasons why this exec-sedan - the most expensive vehicle in the Audi fleet - is worth such a hefty price of admission.
12 Cylinders of Scintillating Performance
While the Audi S8 sport sedan gets all the rave reviews, the truth is that the W12-powered A8L offers similar levels of get-up-and-go.
With a 6.0-litre, 12-cylinder engine developing 450 horsepower and 428 lb-ft of torque from 4000-4700 rpm, the A8L is capable of some surprising stop-light performances. Case in point: sprints from 0-100 km/h take an estimated five seconds flat.
But the strength of this sedan is in its ability to eat up miles and miles of highway at autobahn-style speeds. The W12 is incredibly smooth, exhibiting the kind of effortless performance that has you traveling well in excess of the speed limit before you know it.
The transmission is a 6-speed Tiptronic that can be left in fully automatic mode or shifted manually through the shift lever or the steering wheel-mounted paddle shifters. It's also the source of my main criticism of the car. The transmission seemed slow to downshift and, once a lower gear was engaged, the throttle was slow to respond.
On one occasion, there was a tremendously load clunking as first gear was engaged (at a red light) and then the throttle was kicked (when the light quickly turned green). The noise was so loud and the sensation so jarring, I checked the rearview mirror to see if someone had run into the back of the car.
Although this unique situation was likely exacerbated by my less than smooth driving style, the computers operating the transmission and throttle should have been able to compensate.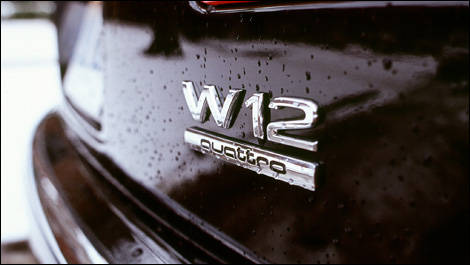 The A8 L has an incredible engine and one of the best all-wheel-drive system.